The weather here in Winnipeg has become summer overnight as it seems. The sun is shining and the temperature has become hot but it definitely has been a windy start to the season. Almost everyday the wind is pretty wild and that makes taking photos quite a challenge! LOL!
Since the weather has been so beautiful and warm choosing my second piece of Vedette Shapewear to style this month was easy for me. I chose to style the Marlene (click here to see the Marlene). It is a beautiful piece of shapewear with gorgeous detailing such a rushing and a lovely rosette and it just so happens to be a swimsuit. No one would ever know that if I never told you. It honestly looks like a pretty top but it is so much better than just a regular tank top as it is shapewear that helps to slim out your body and show off your beautiful curves with the help of the built in shaping layer and bra cups. The price of this swimsuit is pretty great too as I have seen far too many swimsuits that are way more money than this one and those ones don't make you look half as fabulous!
My challenge every month is to style my chosen piece of shapewear with a color theme so I chose pink and white with accents of yellow and green. This is truly an amazing shapewear piece and I am so happy with it! It is definitely a piece that I would encourage anyone to buy as a swimsuit or if you are brave like me as a top! You will love it!
If you would like to win a piece of Vedette Shapewear for yourself check out my last blog click here for all the details on how to enter!
Contest closes May 10, 2015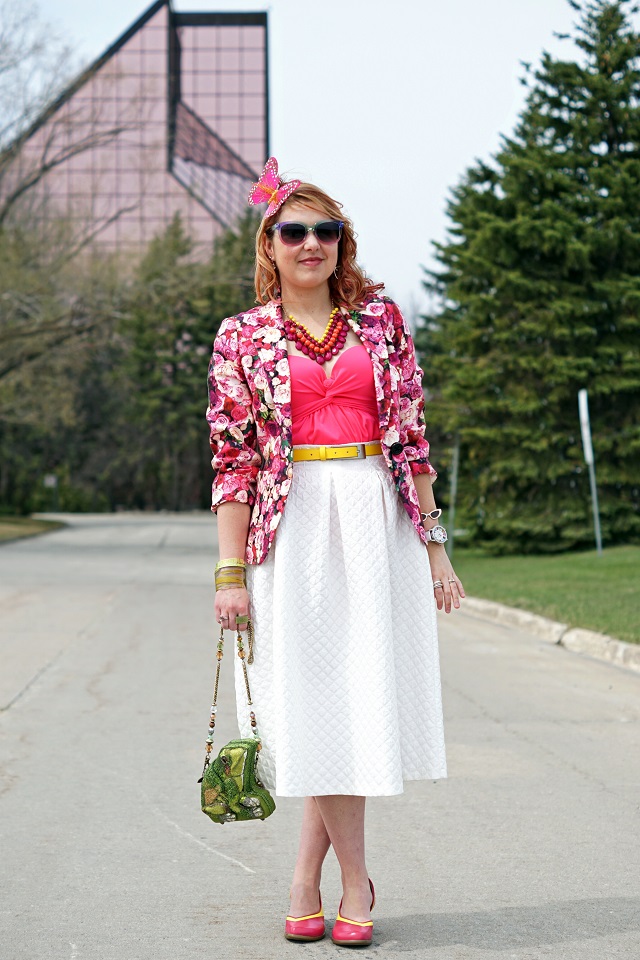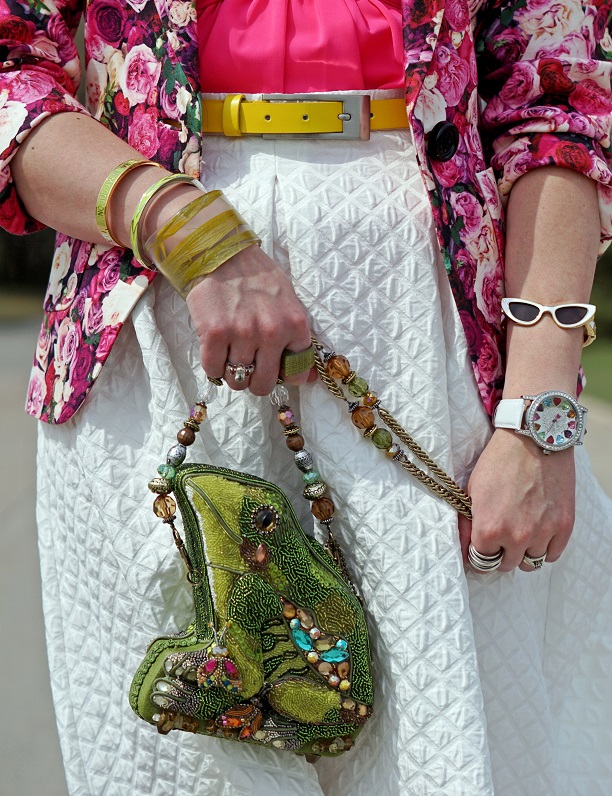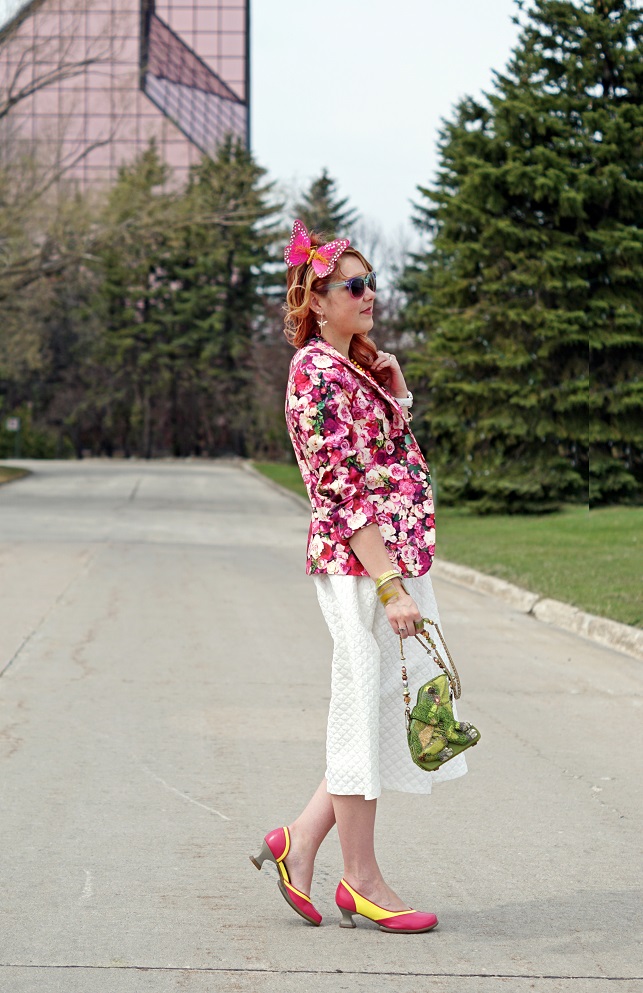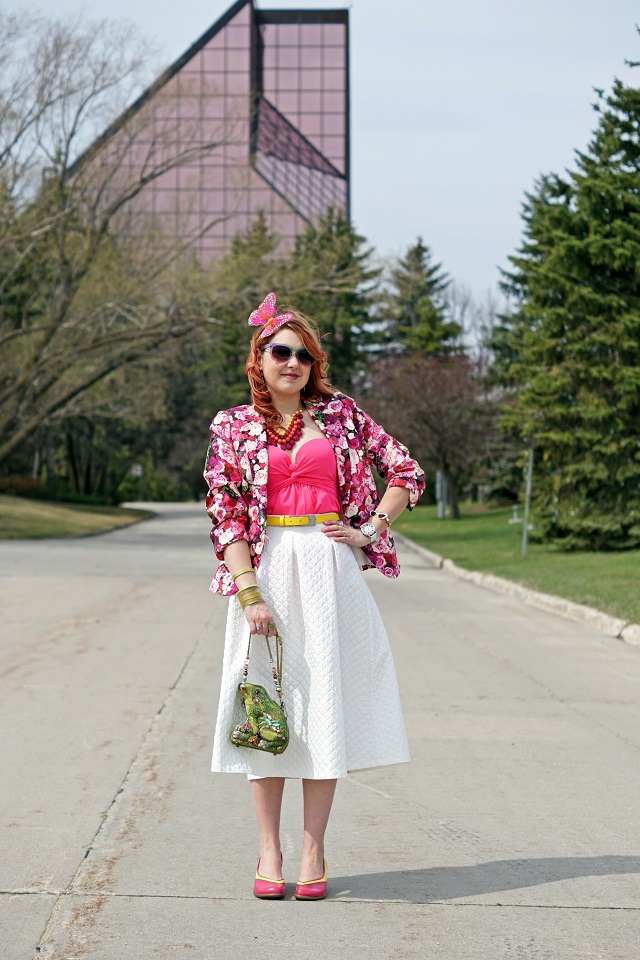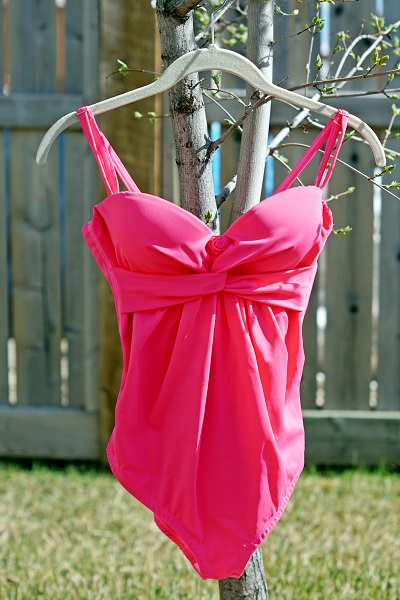 Shaping swimsuit – Marlene – Vedette Shapewear
Floral blazer – Kate Spade
Skirt – Topshop @Hudson's Bay
Belt – Danier Leather
Necklace – R.J. Granziano
Sunglasses bangle – Kate Spade
Seaweed & resin bangle – dconstuct
Green arrow bangle – Lia Sophia
Lime in my coconut bangle – Kate Spade
Watch – Betsy Johnson @ Winners
Sunglasses – Forever 21
Earrings – Winners
Butterfly fascinator – Icing
Shoes – John Fluevog – DIY Hand painted Wearever Arigato