Fruits and Passion is a company that for as long as I can remember I have been buying my body and home care products from. I absolutely love their products and use them in my everyday life!
Fruits and Passion started in Quebec, Canada in 1992, but they have grown and are also present in the United States, Europe, the Middle East and Asia! All their products are NOT tested on animals. Also all their products are formulated WITHOUT mineral oil, soap, phthalates, phosphates or formaldehyde. I think buying products from a company like this is important and that is why I choose to shop with them! Click here to see all Fruits and Passion products!
Just check out some of their newest products below! I am sure you will love them as much as I do!!! Click here to see more of what Fruits and Passion has to offer!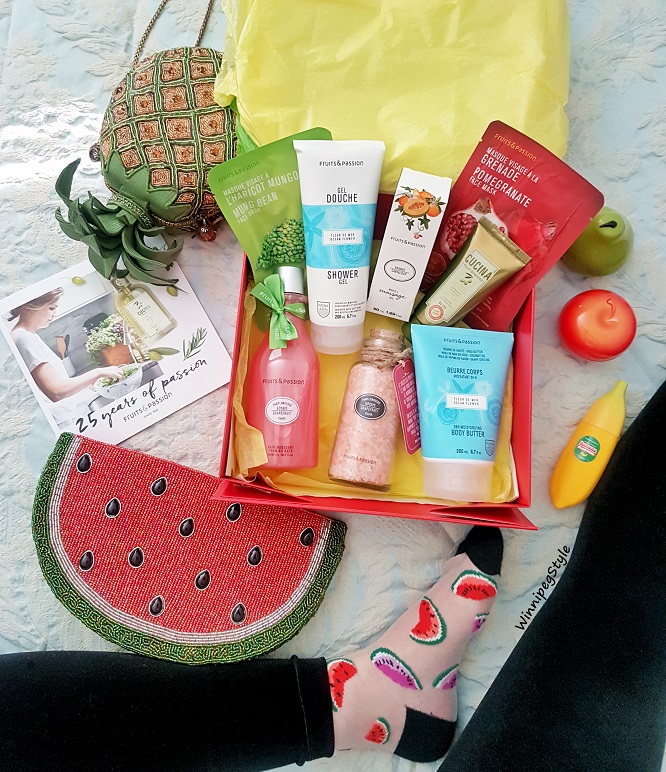 This gift box is seriously packed full! Just look at all these goodies! I will be talking about them all in the photos below as well!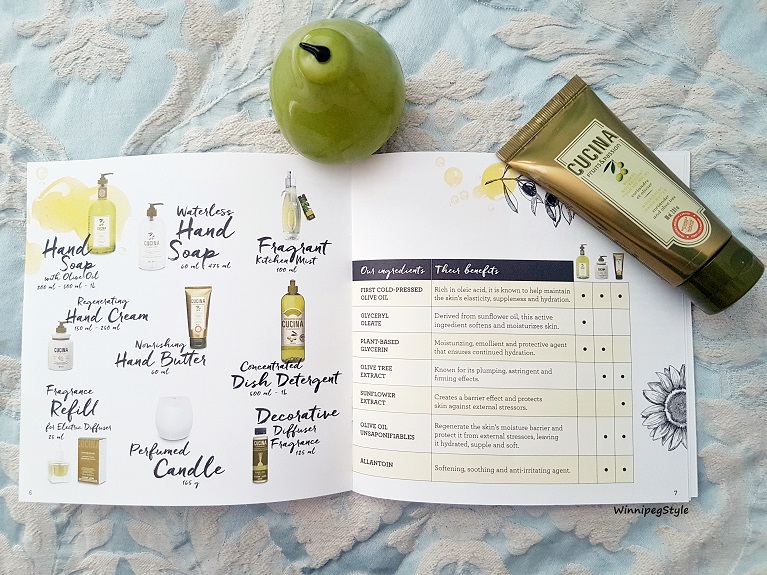 I am going to start with my favorite line from Fruits and Passion! The Cucina line! This line is made for home and kitchen. This nourishing hand butter is awesome, especially for this cold and dry winter we have been having! It made my hands not only soft but they smelled delicious! It contains olive oil, olive tree extract, sunflower extract and allantoin (softening and anti-irritating agent) I have always loved the hand soap from this line and have it in my kitchen but now I have just seen in this catalog that there is a waterless hand soap and I think I need to try it out!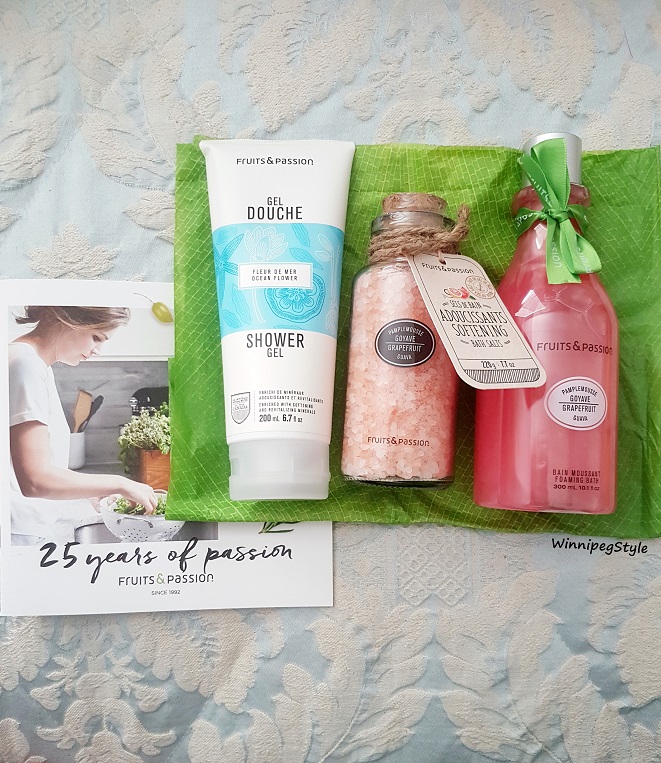 Here is the most wonderful smelling bath and shower products! I absolutely love the shower gel. Foams up nicely and cleans perfectly. (see picture below for more info on it's ingredients) The bath foam (enriched with plant based glycerin and eight fruit extracts) and bath salts (made with sea salt) are the perfect way to relax. The smell is so nice and both these products soften the skin!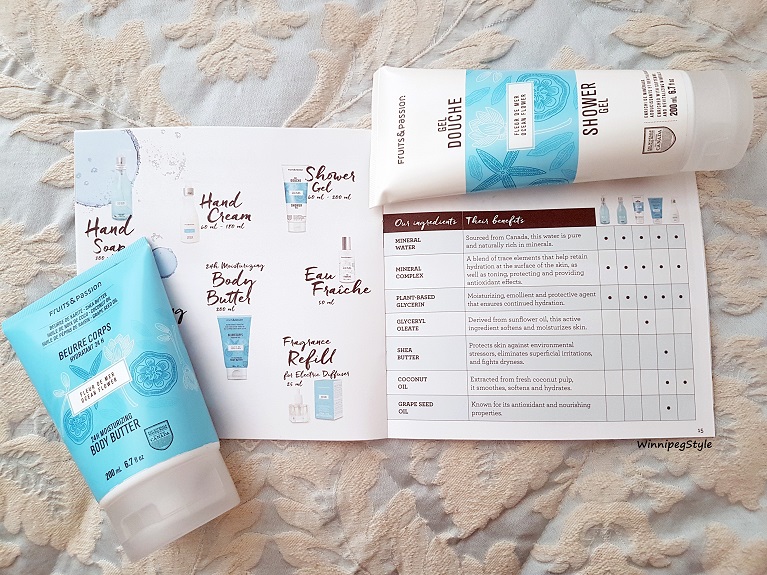 I am definitely loving this line of body products! The shower gel and body butter compliment each other perfectly!
The shower gel contains: mineral water, mineral complex (helps retain hydration and tones and protects the skin), plant based glyceryl (moisturizing protective agent), and glyceryl oleate (derived from sunflower oil that softens and moisturizes the skin).
The body butter contains: every ingredient in the body wash, as well as shea butter, coconut oil and grape seed oil!
The body butter is so moisturizing, nice and thick and is not greasy at all! Perfect for this winter weather!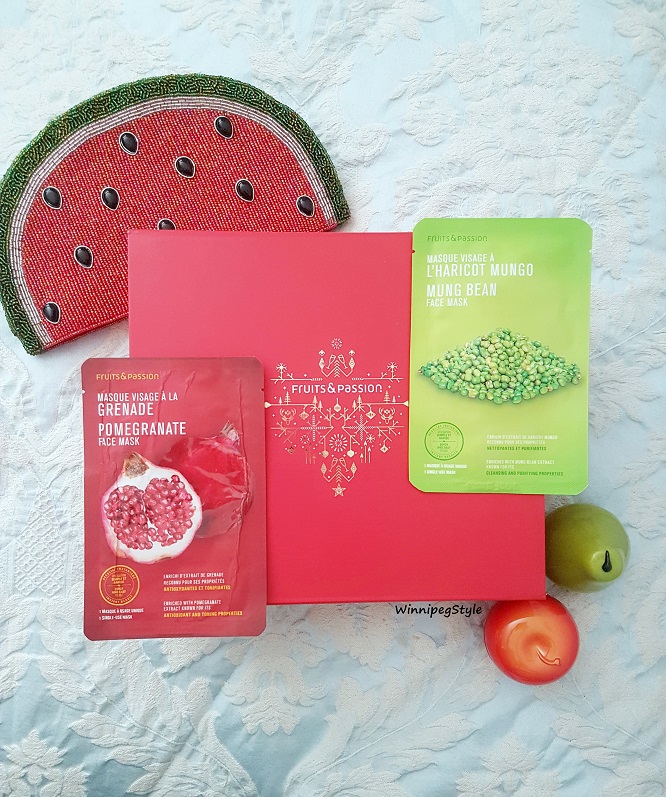 Here are two of the most delicious face masks! Seriously don't eat them, but they smell amazing!
Both sheet masks are formulated to improve the appearance of your skin and suitable for all skin types!
Mung bean extract is known for it's cleansing and purifying properties! Pomegranate extract is know for it's antioxidant and toning properties!
Last but not least here is the massage oil! It contains grape seed oil and sweet almond that help leave the skin supple and soothed. The fragrance combines the freshness of oranges and the sweetness of cantaloupe. Obviously this oil is perfect for massage but I have also been using it on my skin as an extra moisturizer this winter as it's been so dry. Works nicely right after a shower so it soaks into the skin!
I hope you have enjoyed reading about some of the products that Fruits and Passion carries! They have been creating products for over 25 years and there really is something for everyone! Click here to see all of the products that Fruits and Passions has to offer!