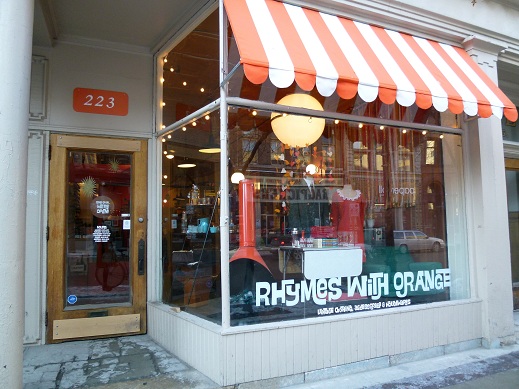 I recently heard about the new vintage store Rhymes with Orange from a friend who recommended it. She told me she had a feeling that I would fall in love with it. Rhymes with Orange is my first experience with a vintage store and I am absolutely thrilled to have been introduced to it. I didn't know what to expect when I arrived at the store. I really had the perception that all vintage stores were dirty, old and had hideously ugly clothing. I couldn't believe my eyes when I walked through the door, the store was stunning. Of course I was first drawn to the hats (I totally took a few home)and after finally trying on almost all of the hats I was able to check out the rest of the store.
Rhymes with Orange is the collaboration between two stores: Vintage Glory (Doug Shand) and Oh So Lovely's camper trailer store (Stephanie Hiebert and Erin Thiessen). Stephanie and Erin first ran their business out of a vintage 1956 travel trailer last summer. The girls visited festivals over the whole summer in the mobile store with huge success. This summer they plan to do it all again! They met Doug while their mobile store was parked near his store. The trio found that they were a good match to go into business together and found a spot to set up shop. Rhymes with Orange was then born.
The front half of the store is for the guys. Having a wonderful selection of wearable fashion ranging from the 1890's to the 1970's. Some of the items include sweaters, funky pants, jackets, accessories and shoes.
The back half of the store is for the ladies! There are so many lovely things to purchase including, handbags, patterned dresses, skirts, shoes and sooooo much more. The store also carries vintage shirts that were revamped and made to be one of a kind by my favorite Winnipeg clothing designer Jill Sawatzky (Tony Chestnut).
If you love the vintage and retro look for your home then this place is for you having lamps, cocktail shakers, glasswear, luggage and even plastic radios.
My Vintage Outfit from Rhymes with Orange for more pictures click here
There is definitely something for everyone here! I was pleasantly surprised with my experience here and I think you will be too! Please check it out for yourself at 223 McDermot Avenue in Winnipeg, Manitoba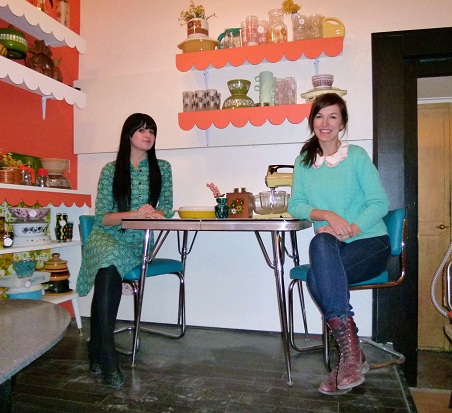 Stephanie and Erin also run a blog of their own 'Oh So Lovely Vintage' check it out!