This is a review on my new touchscreen Smartwatch from Kate Spade. I purchased this watch myself from The Bay.
Until recently I had a very simple Kate Spade fitness tracker that I was given as a gift. I loved it as I personally didn't need a very fancy tracker. I am sure you have seen me wearing it in a few of my outfit posts as I never took it off. I wore it all day, every day. I had it for about a year and half and then the silicon strap broke about 2 weeks ago. Very sad day! Since the strap and tracker are one piece the strap is not replaceable so I had to say goodbye 🙁
I immediately, I mean immediately went online to find a replacement fitness tracker. Most people in my family have a FitBit and really like them so I checked them out first but I wanted something a bit more girly and more dressy that suited my style. Since I liked my previous Kate Spade fitness tracker I checked out what was available there. I noticed that Kate Spade no longer carried my last simple fitness tracker. I am sure it's probably because of the strap issue and probably it was a bit too simple in terms of what it could do for most people. I did find online that Kate Spade now had a new touchscreen Smartwatch. I was immediately in love with the way it looked! Truly a stand out piece. I normally love Kate Spade things so no big surprise there. The watch is run by Wear OS by Google (was previously Android Wear) so to me that's another bonus as I currently own a Samsung S7 and I knew it would pair perfectly. I watched the YouTube video of how the watch worked (watch it here) and decided it was the one for me so I purchased it. I purchased it from The Bay in Canada as the price was better in my currency.
As soon as I got the watch in the mail I was so excited! I know that sounds funny but I get excited by the small things! LOL! Immediately upon opening the package and seeing the watch I knew this was definitely an upgrade from the last fitness tracker I had! Setting up the watch is very simple. First thing I had to do was obviously charge the watch which I think took a few hours to do. Then I paired my watch with the Wear OS by Google app (previously was Android Wear). The app walks you through the steps so no problems there. The watch itself comes with a few apps but you can add as many as you want just by going to the Play Store app on the watch itself.
A few of the things this watch can do is:
– Track activity such as step count, calorie count and sleep
– View and answer all emails, texts and messages
– View all notifications, including: Instagram, Facebook, etc
– Play music
– Calendar reminders
– Voice activated (I am constantly asking it questions! LOL)
– Tons of watch faces to choose from, including a feature for it to match your outfit!
– Google map directions
– Option of showing a second time zone
I have had the watch now for about 2 weeks and I do love it! I honestly just bought it for the activity tracker feature but I am impressed by how many things this watch really can do! I am sure I will figure out many more of it's uses as time goes by.
Here are a few pictures of the on-screen features and functions: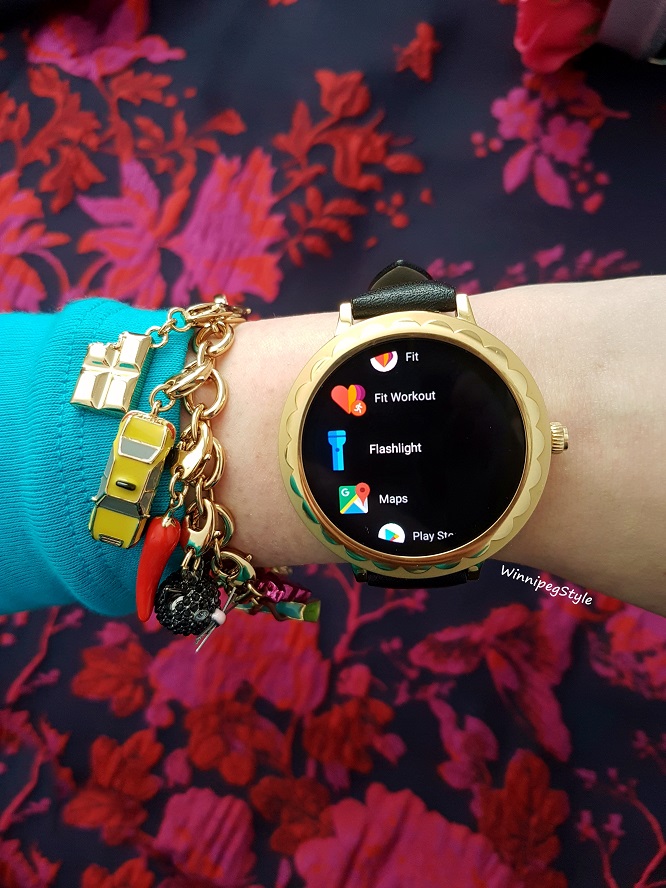 Press the side button and all available and downloaded apps come up. Scroll through with your finger until you see what you are looking for. New apps can easily be downloaded from the Play Store right from the watch!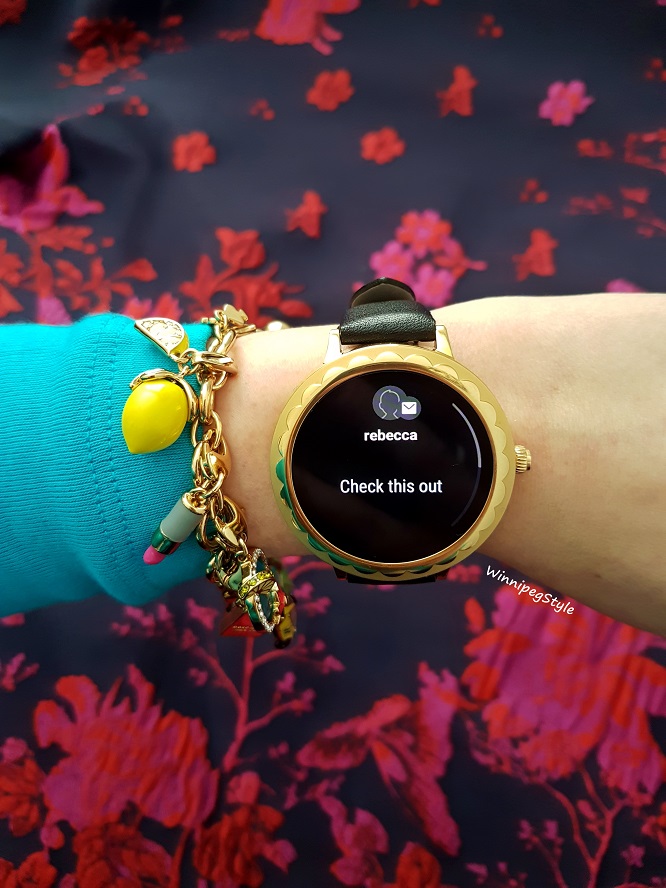 Get emails right on you watch. Watch will vibrate when a new message comes through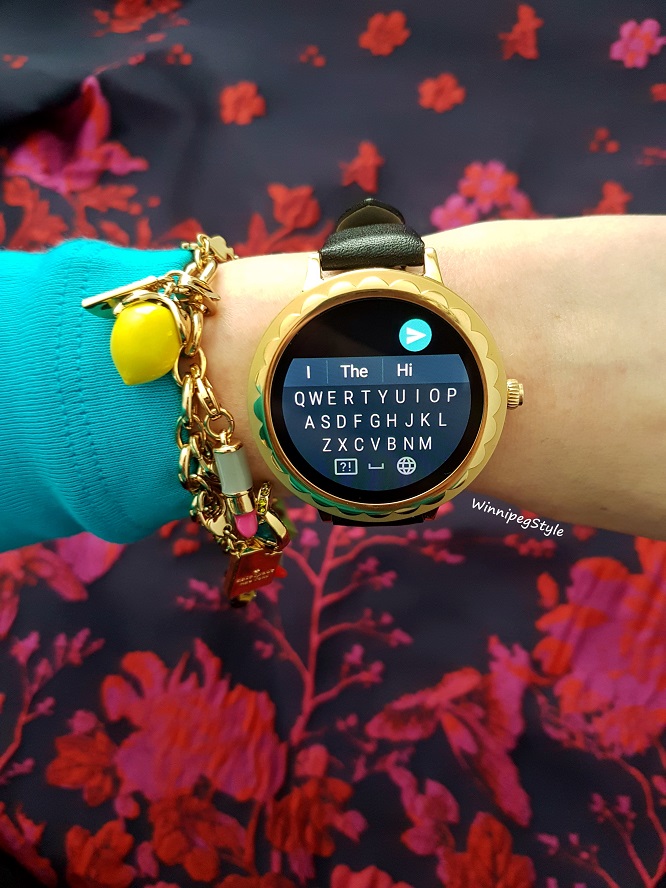 Read and Reply to your emails/texts/messages with the onscreen keyboard!!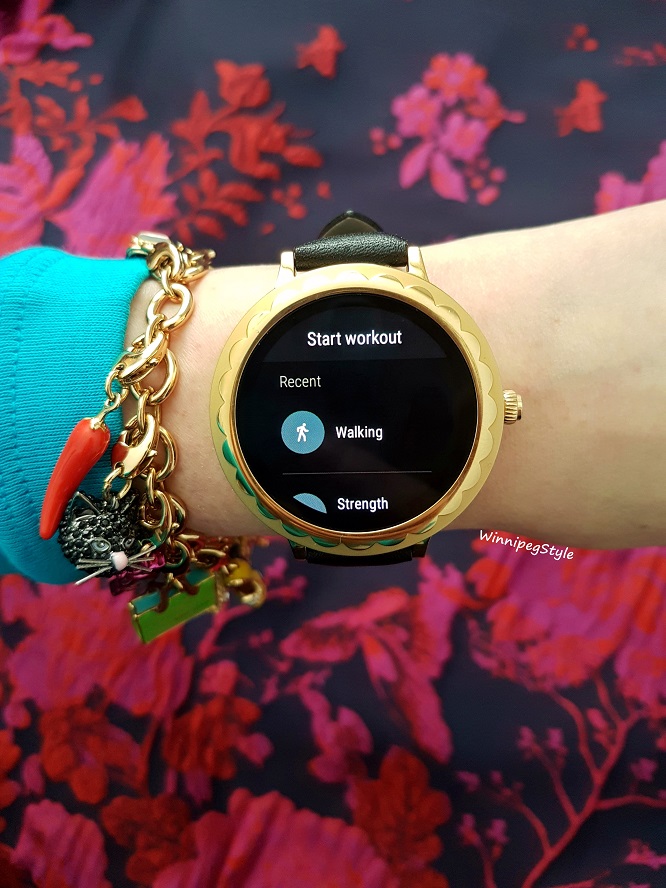 Track you activity and count your steps!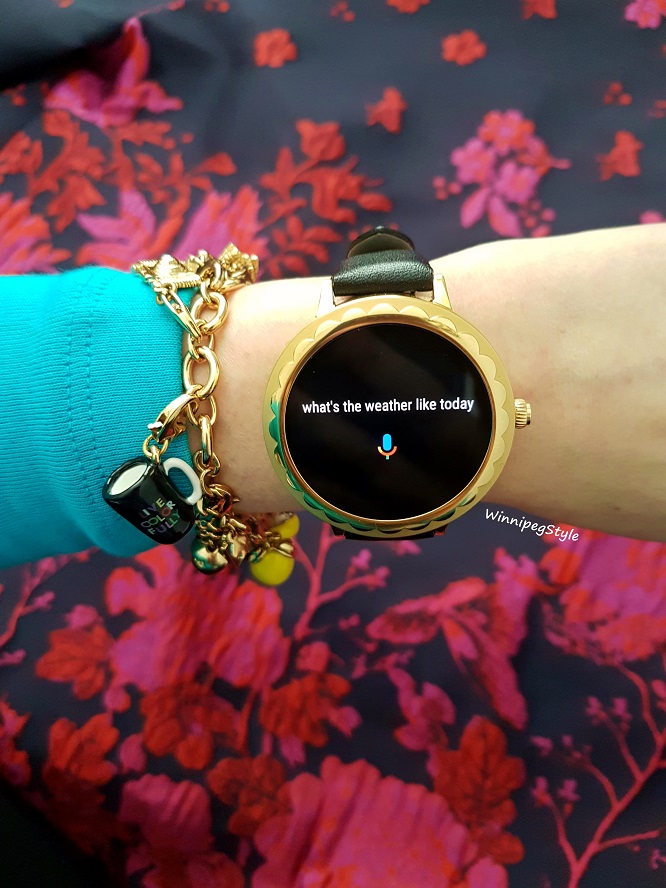 Voice activated! It listens to you! Tap the button on the side and say 'OK Google' and ask anything you want to know! I asked 'What's the weather like today' here. It shows the question what you are asking right on the face!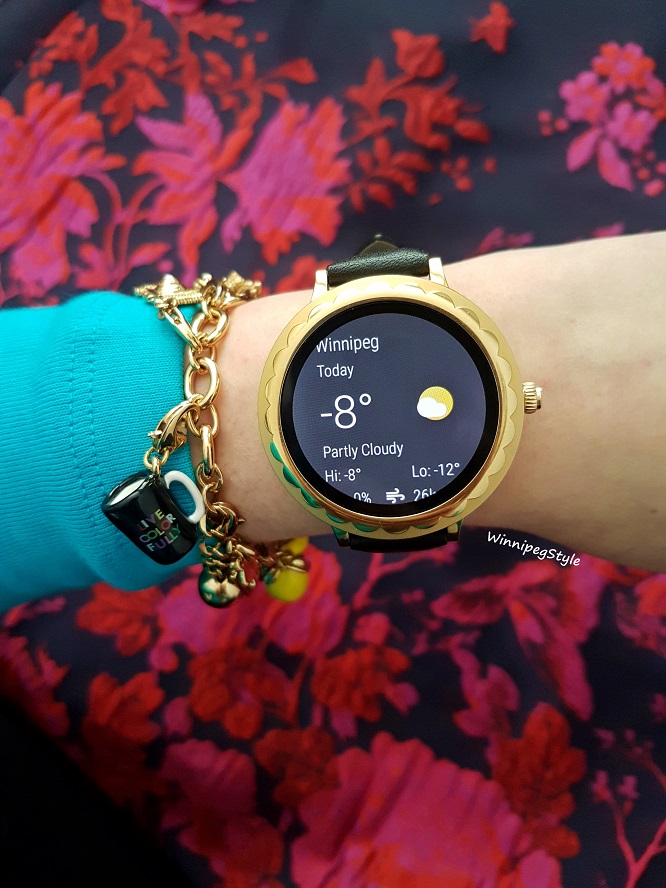 It listens and then shows you the answer to your question! As you can see it showed me the weather! A very cold day indeed! If you scroll down it will give you more weather details!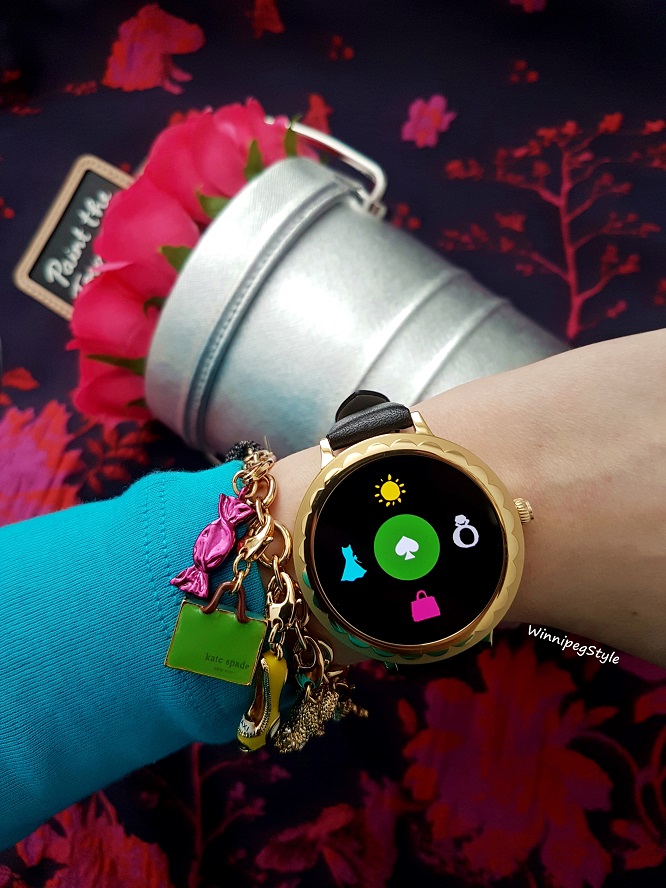 The watch face can match your outfit exactly! By selecting the 'Choose your look' app on the watch you can pick the exact shade of your outfit, bag, jewelry color and if it's day or night. I picked that I was wearing a blue top, a pink bag and that it was day time. I chose the silver jewelry option because I wanted it to match my silver rose pail bag as you can see it in the background. Then just press the middle spade button.
This is the face that it picked for my outfit! Isn't that awesome! If you don't like the face it picked for you it will give you other options as well. This face style is really neat as it shows my step count for the day so far and also a second time zone. I chose the time zone to be for New York but you can choose any other time zone you want!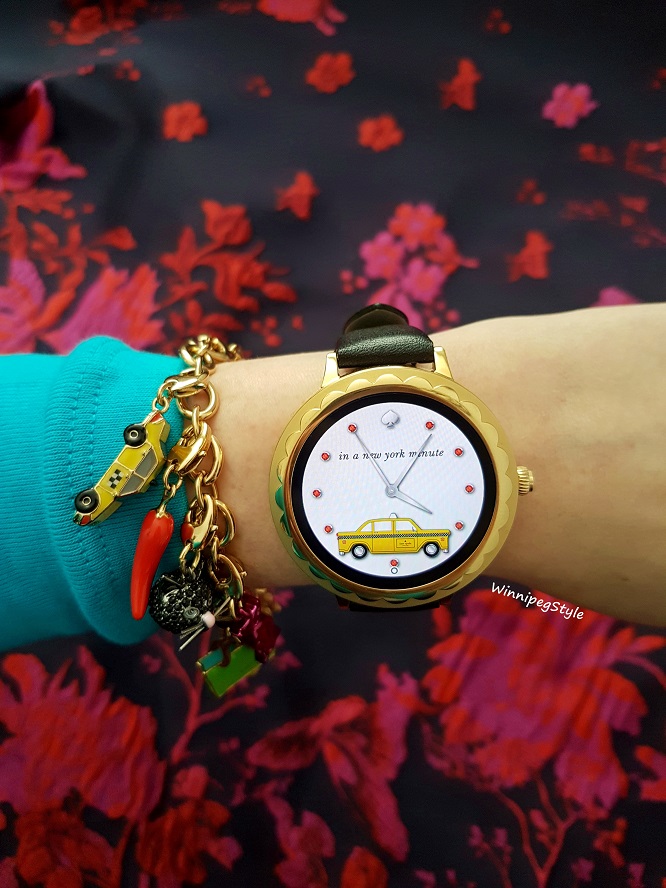 This is an adorable pre-programmed face option that comes with the watch! Isn't it the cutest?! You can also change the white background to be another color. The taxi on the screen actually drives off the watch face and disappears too!
This pre-programmed face has a really neat feature to it! When you have an un-read notification or email it winks one eye! As soon as you read the notification/email the eye opens up again!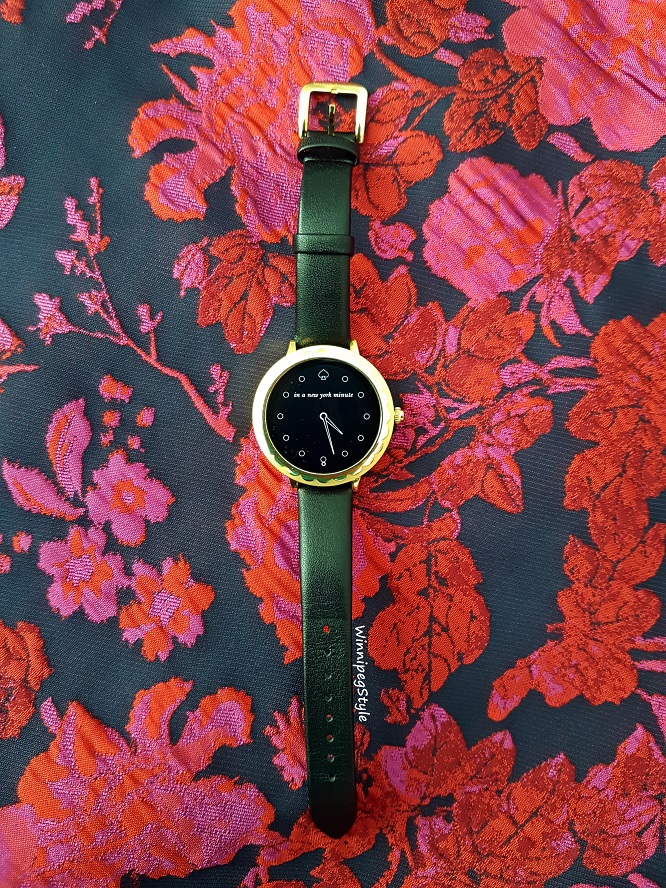 There are different styles of straps that this watch can have. I chose the black leather version for myself but you can also choose a metal strap as well. The price of the metal strap version is a bit higher. I like the leather version as it fits my small wrist very well. My wrist is about 5.5 inches around and I can either use the smallest hole or the second smallest hole. This watch can definitely fit a bigger wrist as well and would look nice as the face is quite large. The size of the watch is 1.75 inches across including the side button. So quite substantial in size. The watch face is quite thick as well. It's about 0.5 inch. It's a little computer though so it has to be a little thicker. The thickness does not bother me at all and I don't even notice it. The website says the battery lasts about 24 hours but I have had a couple of days that it lasted 2 days. It just depends on your use.
I hope you have enjoyed reading my Kate Spade touchscreen Smartwatch review! I honestly was just looking for a simple replacement to my broken fitness tracker but I think I got a whole lot more with this watch!