Socks and tights are something that I adore to wear and wear them pretty much every day! I think they are the perfect way to add a little bit of personality into any outfit!
Tabbisocks has provided me with a few different pairs of socks and tights to try out but all views in this review are my own.
Tabbisocks really do make the most quality socks and tights! I should know as I have been wearing them for years now! I can't get enough! All pairs of socks and tights are made in Japan with the best materials! See all the products Tabbisocks has to offer by clicking here
I absolutely need to wear tights in the winter to keep warm but I think they are just perfect to wear all spring and on cooler summer days! The weather this year has started out to be not so great so I am sure I will be wearing my tights all year long in this case! Oh well at least I will look good!
This pair I am wearing below has the cutest pattern ever! Alice and Wonderland theme! Absolutely adorable! (see them here)
These tights are a cotton blend so they are nice and soft and of course they have some nylon and spandex to give them great stretch! The cotton blend makes them perfect for the warmer weather too! I like that the pattern is quite subtle but still really fun!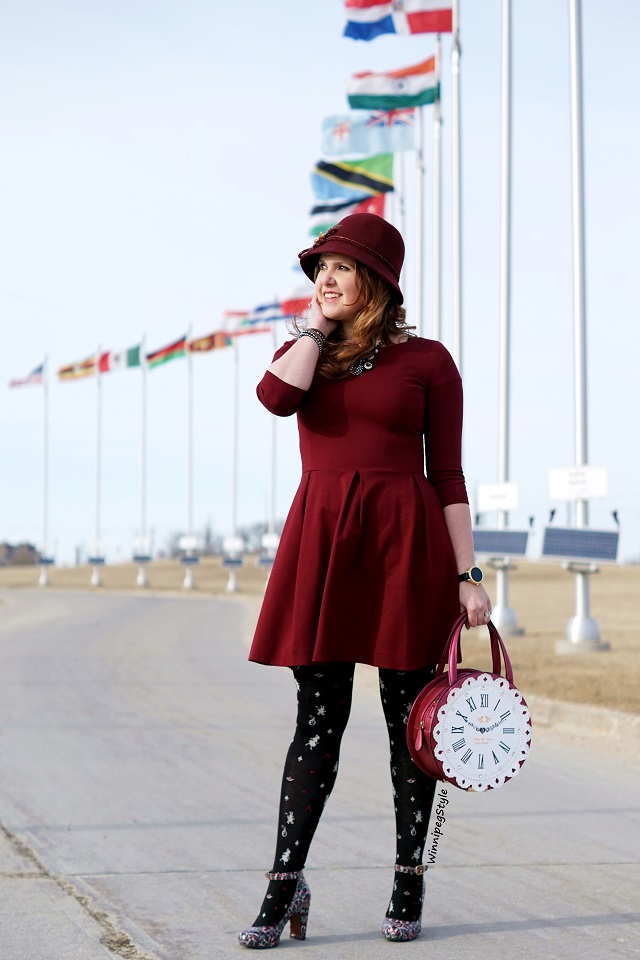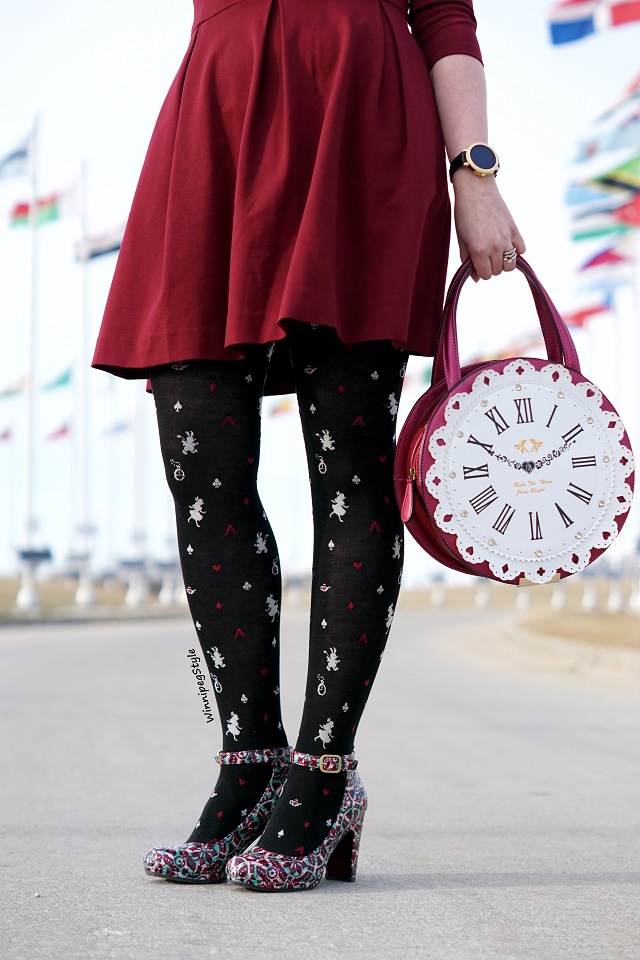 Over the knee socks are always a really fun choice in legwear! I like having the option of hiding the top of the socks or showing them. Since the day I took these photos was a bit chilly I preferred to blend them under my dress. These super cute peacock over the knee socks are really neat. (see them here) I love that the pattern is just one big giant peacock on the outside of both legs.v This sure makes a cute statement! These socks are cotton blend as well with spandex and nylon for stretch. Again the cotton blend makes them great for the warmer weather too. You can also fold the top over to make them not as high on your leg.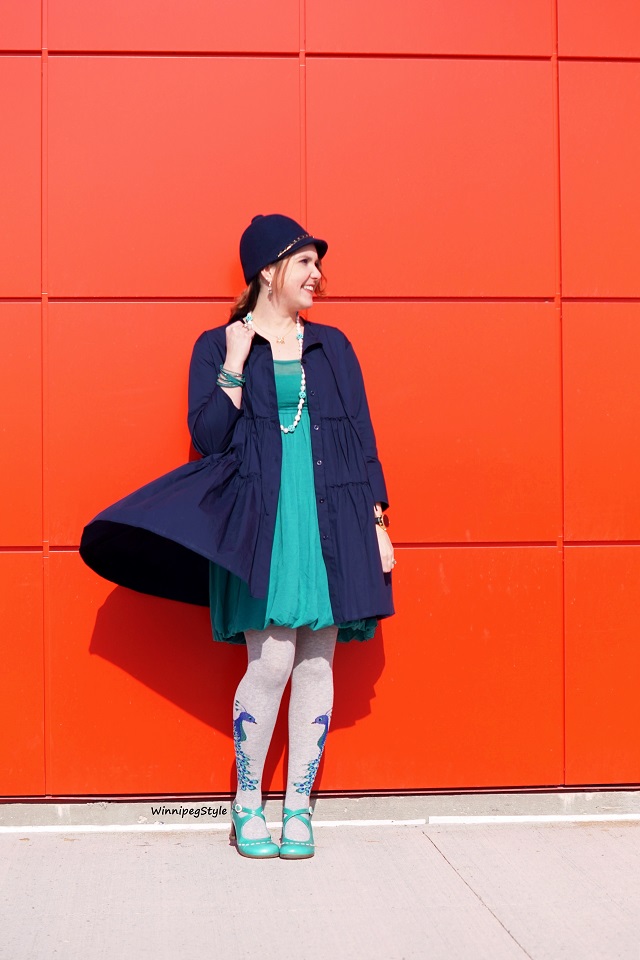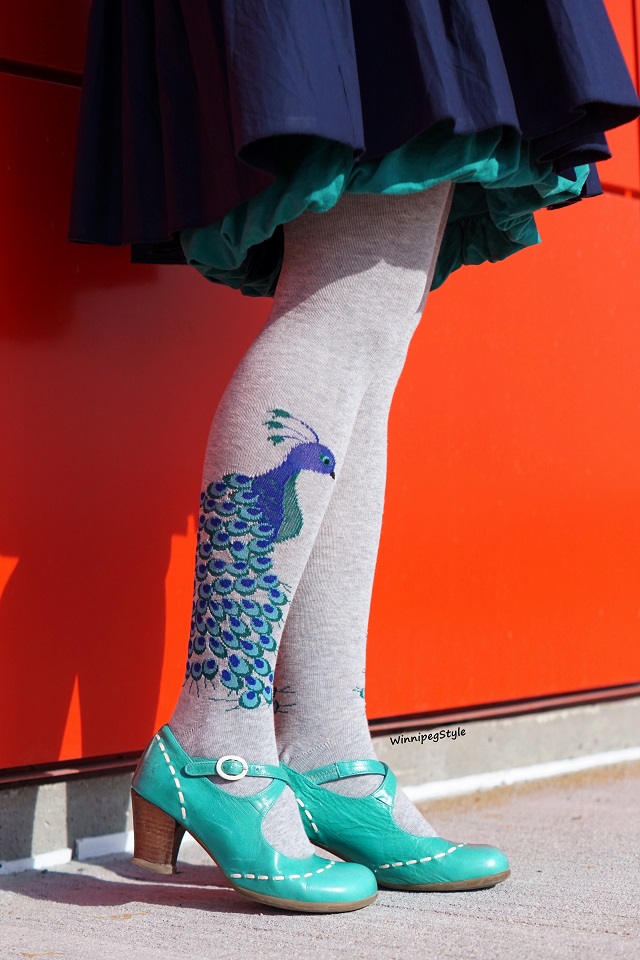 One of my favorite things to wear with my ankle pants all year round is sheer socks! I can't get enough of them! I absolutely love the way they look peaking out at the bottom of my pants! I am sure you have noticed my love for them by looking at my blog and Instagram page! So you can imagine my excitement with these Banana sheer socks (see them here). These socks are a nylon blend with cotton and acrylic. I can't wait to wear these socks with skirts as well! I think the Minions would approve of these socks for sure!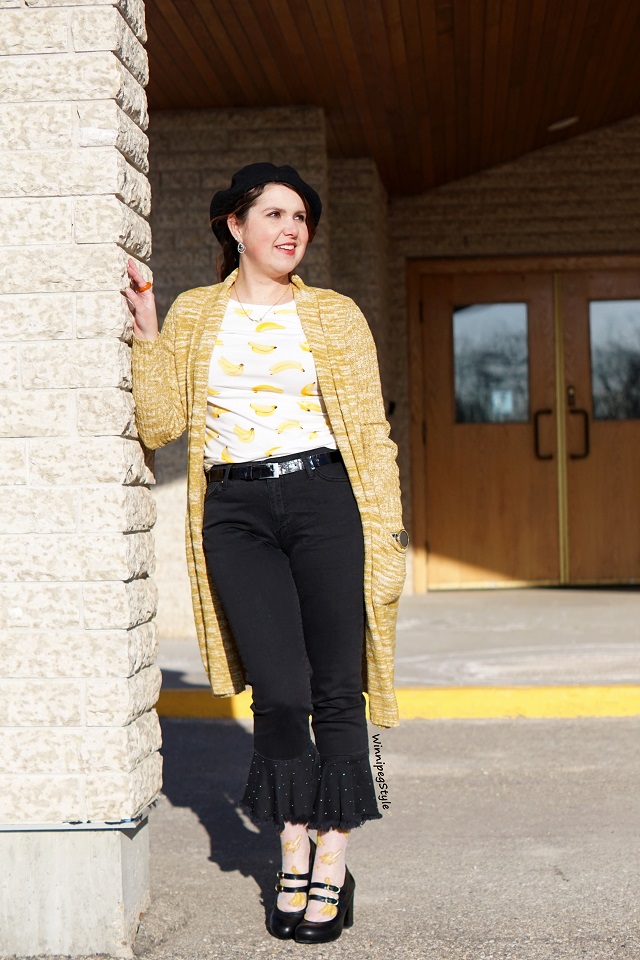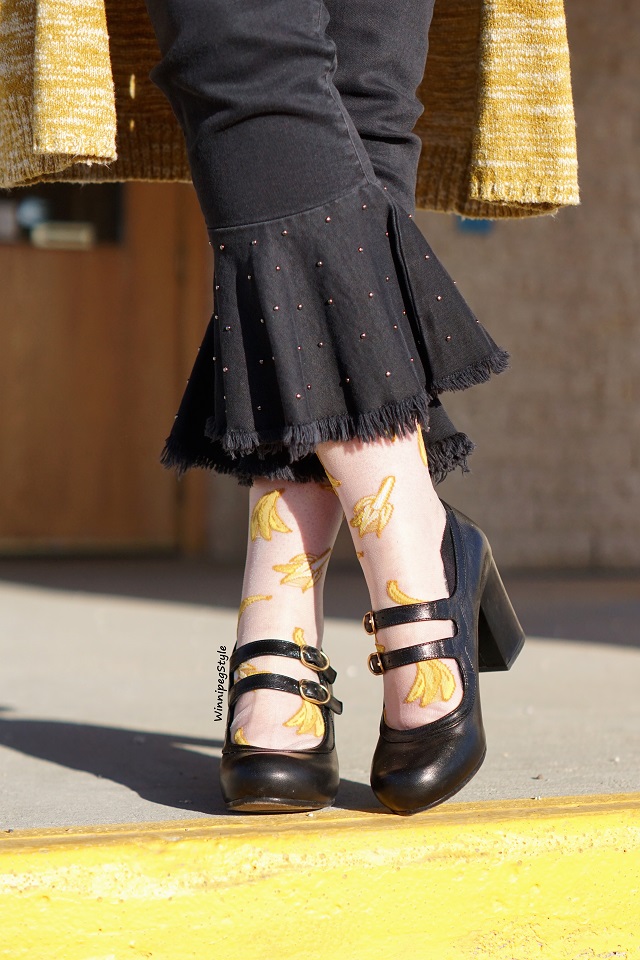 Sheer tights are always classic but by adding a cute print to them makes them even better! The polka print of this pair is so sweet and really adds just a little something special to the whole outfit. (Check out this pair here) I have always been a little scared of sheer tights because I was worried they would snag easily. Well that is not the case with these tights. Since Tabbisocks uses high quality materials this did not happen. I have worn these tights a few times and they still look absolutely perfect!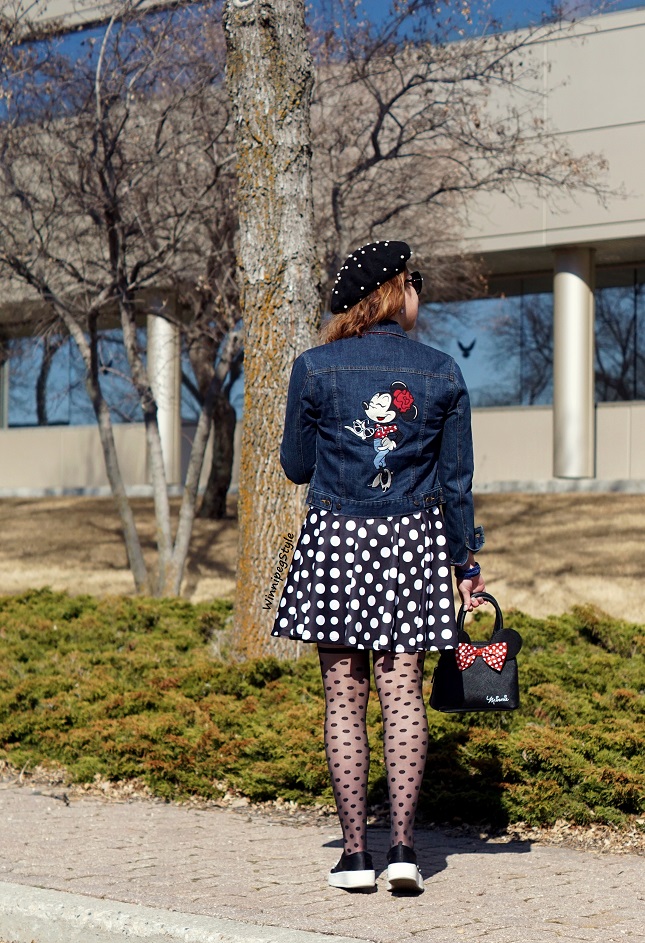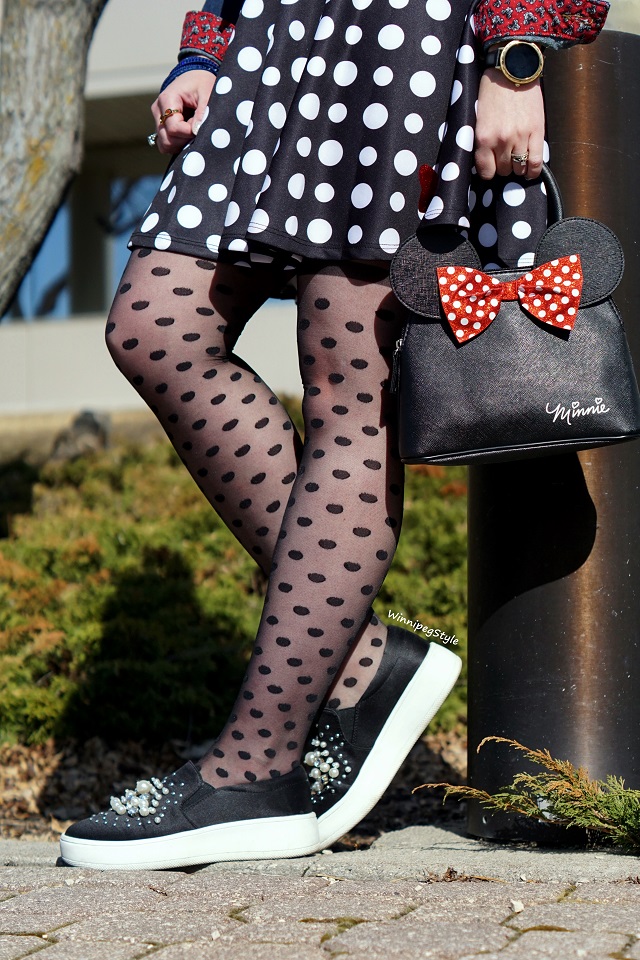 As you can see my style is always changing from day to day! One day I am super dressy and the next I am a little more casual! But for all of my looks Tabbisocks has something perfect to wear with my outfit! Check them out! You won't be disappointed!
Outfit #1 Details
Alice & Wonderland tights – Tabbisocks
Dress – Banana Republic
Hat – Nygard
Clock bag – Darling's @ Home Hardware
Shoes – Chie Mihara (style: Normand)
Outfit #2 Details
Peacock over the knee socks – Tabbisocks
Coat – Chepe Italy @ Marshalls
Dress – INC International Inc @ The Bay
Necklace – Winners
Hat – Giovannio New York @ Danier
Bracelet – Swarovski
Shoes – John Fluevog
Outfit #3 Details
Banana sheer socks – Tabbisocks
Cardigan – Anthropologie
Banana print top – Forever 21
Flared jeans – Pilcro @ Anthropologie
Belt – Danier Leather
Shoes – Chie Mihara (style: Tania)
Outfit #4 Details
Polka dot sheer tights – Tabbisocks
Minnie Mouse denim jacket – Walt Disney World
Polka dot skirt – The Disney Store
Beret – Forever 21
Minnie Mouse bag – Primark
Watch – Kate Spade New York @ The Bay
Shoes – Soda @ Marshalls