One company that has been in my life since I was a little girl has been April Cornell! April Cornell was always there, I can remember my mom having her gorgeous linens around the house. The linens were stunning, full of color and had such beautiful patterns on them. I always loved those linens the best, trust me even as child I knew those linens were special as my mom would save up for them. As I got older I discovered April Cornell clothing and fell completely in love! Those same colors and patterns on the linens were now in clothing form! I feel amazing wearing these lovely pieces and sometimes they even bring back a sweet memory or two!
To read a little more about April Cornell and her company that was started in 1975 click here
April Cornell offers:
Ladies fashions in Regular and Plus sizes
Baby, Girls and Mommy & Me fashions
Linens and kitchen products
Home: including bedding and cushions
Accessories: including shoes, bags, jewelry, hats and scarves
*** PROMO CODE OFFER!!! ****
Get 20% your order of regular priced items with promo code: WINNIPEGSTYLE
Offer is good until July 1, 2018
Every season April Cornell makes the most gorgeous clothing and accessories (and of course linens too!) I always love what this company comes up with! Everything is so creative and they only use the best materials! This season I couldn't resist this stunning coverup / jacket as it's so stunning. (See it here – Canada – click here, USA – click here) It is put together with the perfect mix of lace, crochet, patterned fabric and of course adorable pockets! Seriously the patch pockets really did it for me! I don't know if I have ever loved a coverup more than this one! It's a little oversized but that gives this piece it's charm! It looks amazing over a simple pair of pants or jeans and would look amazing over a little sweet summer dress as well! The lightweight lace is perfect for every season. Even in this heat wave we are having this cardigan is just fantastic to layer over anything to add that something special!
To see all that April Cornell has to offer click here in Canada or Click here in the USA
*** PROMO CODE OFFER!!! ***
Get 20% your order of Regular Priced items with promo code: WINNIPEGSTYLE
Offer is good until July 1, 2018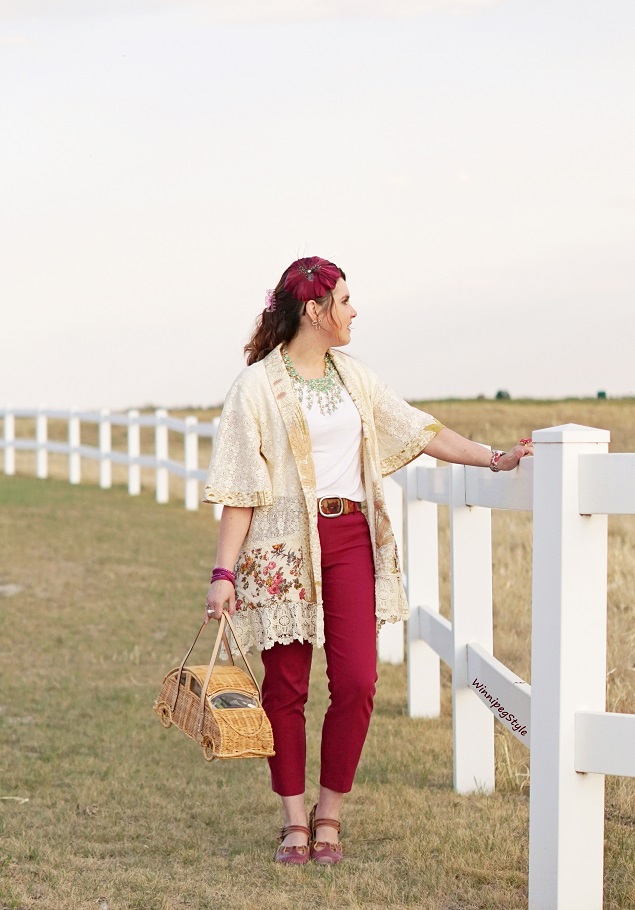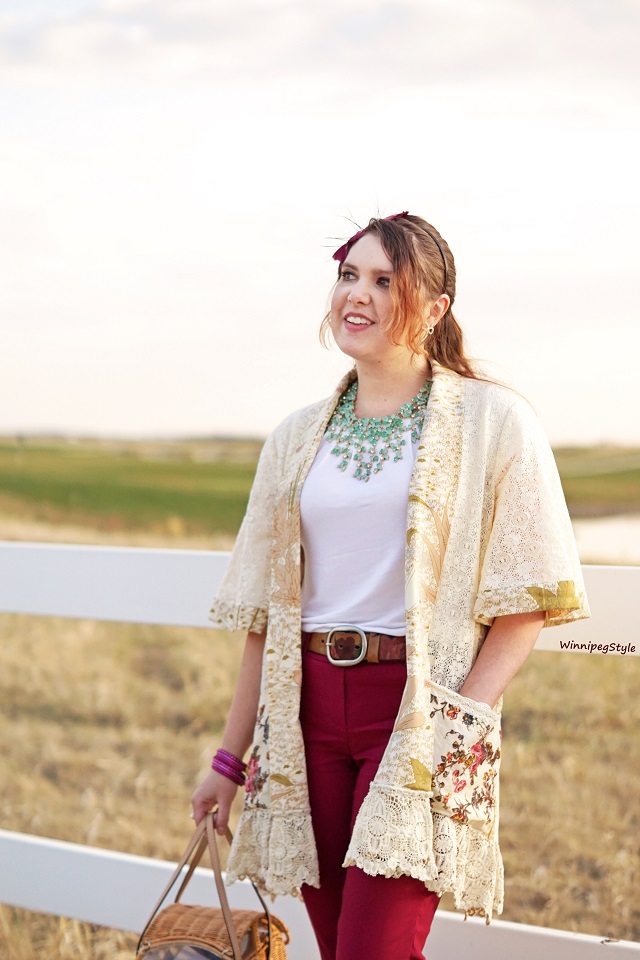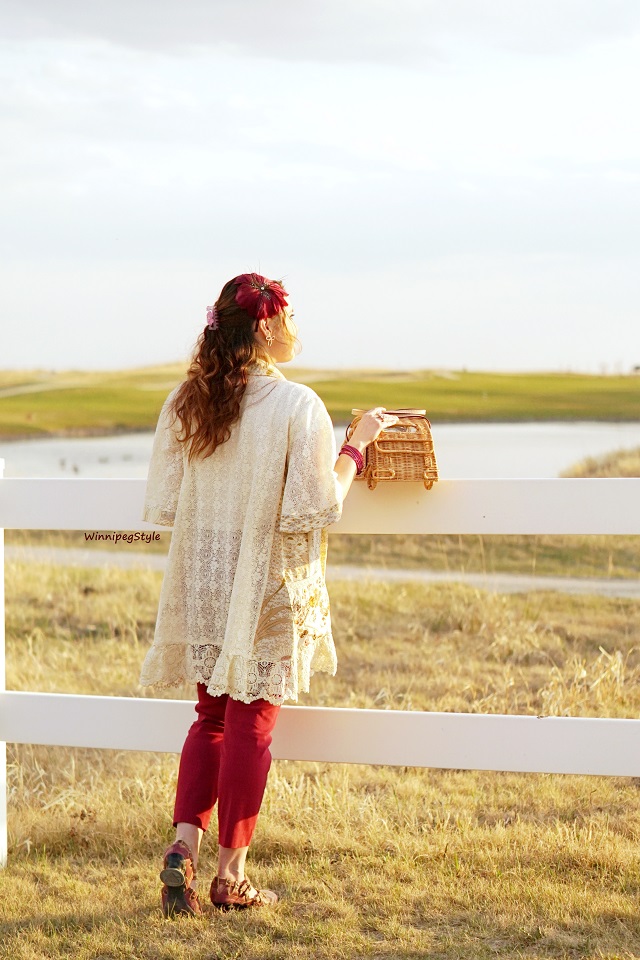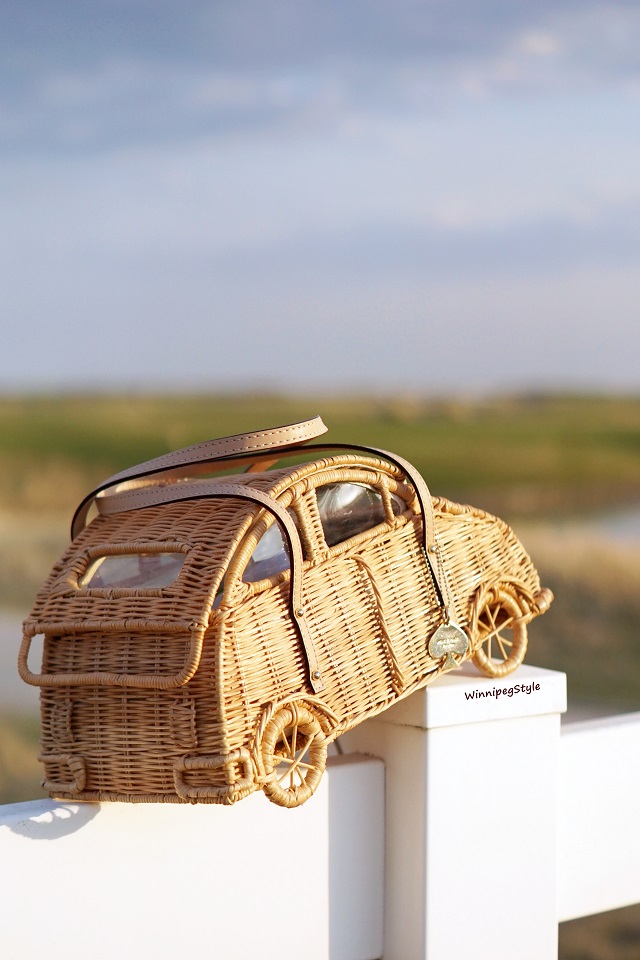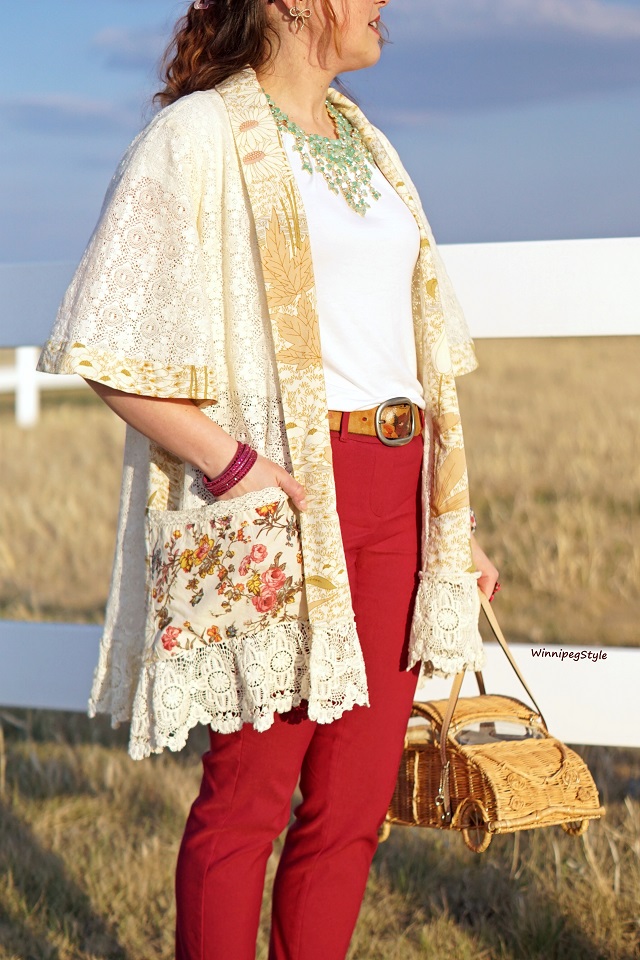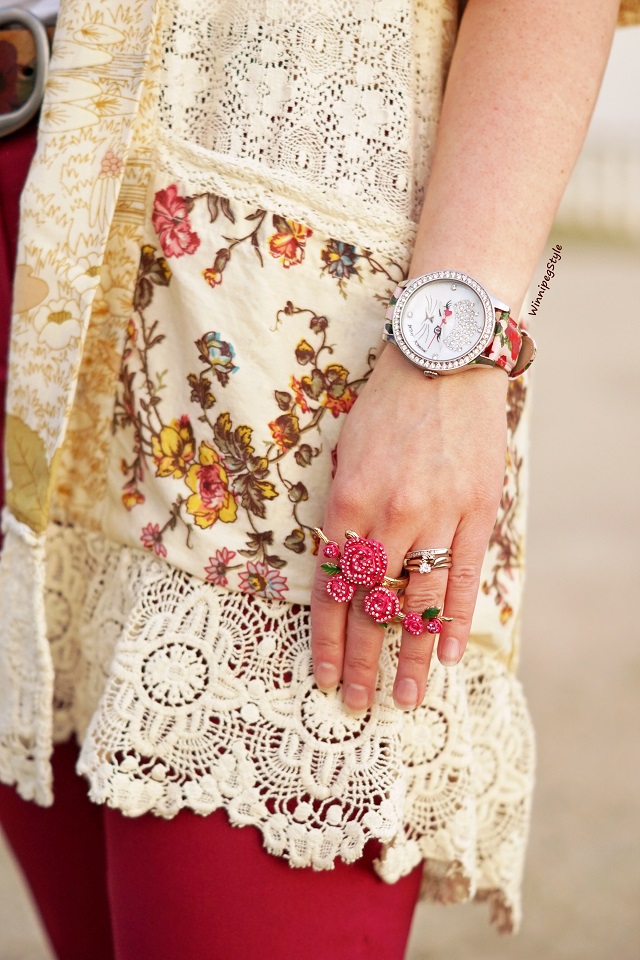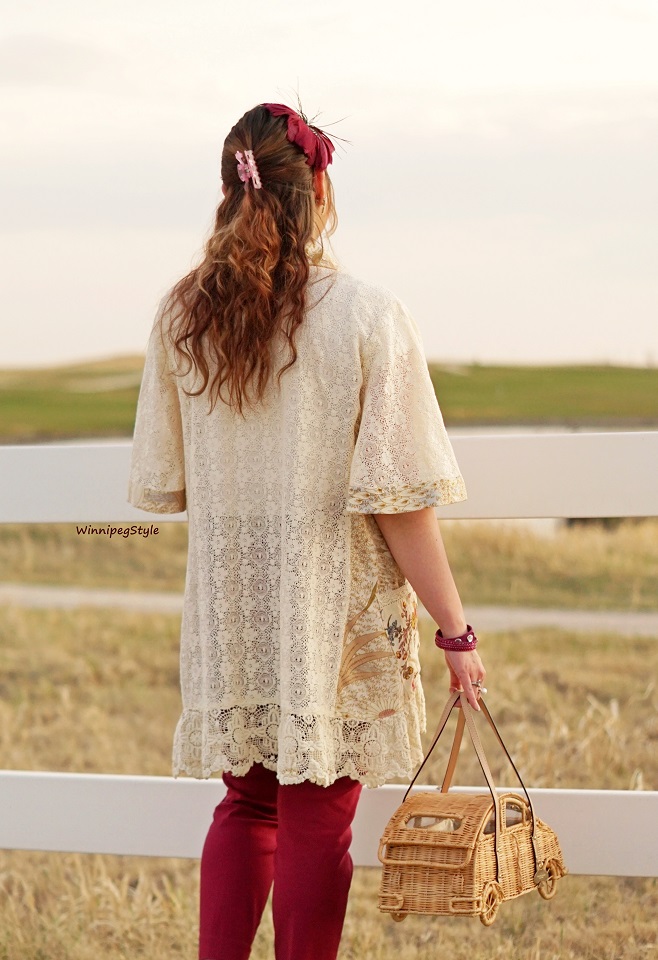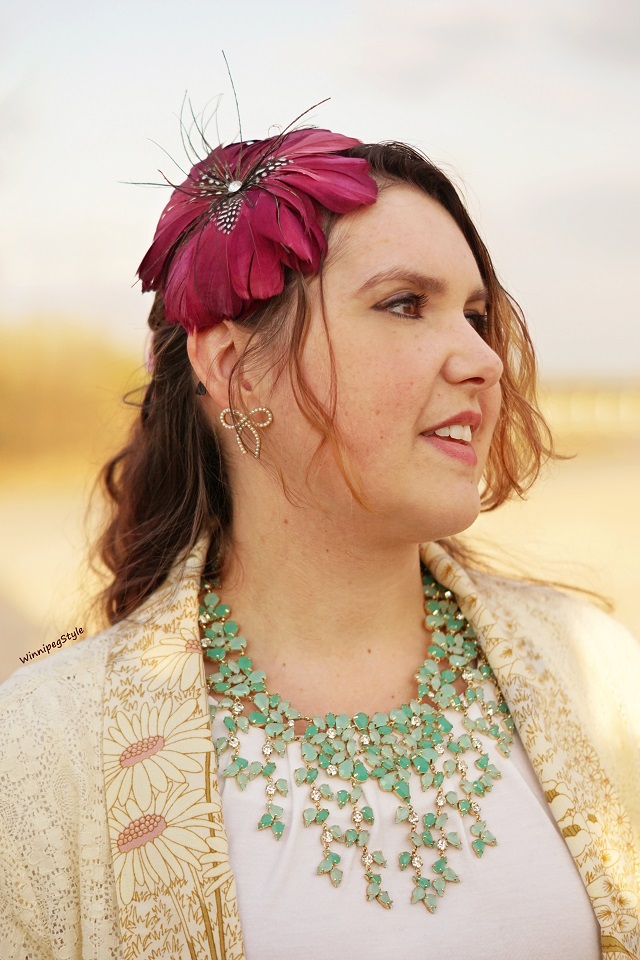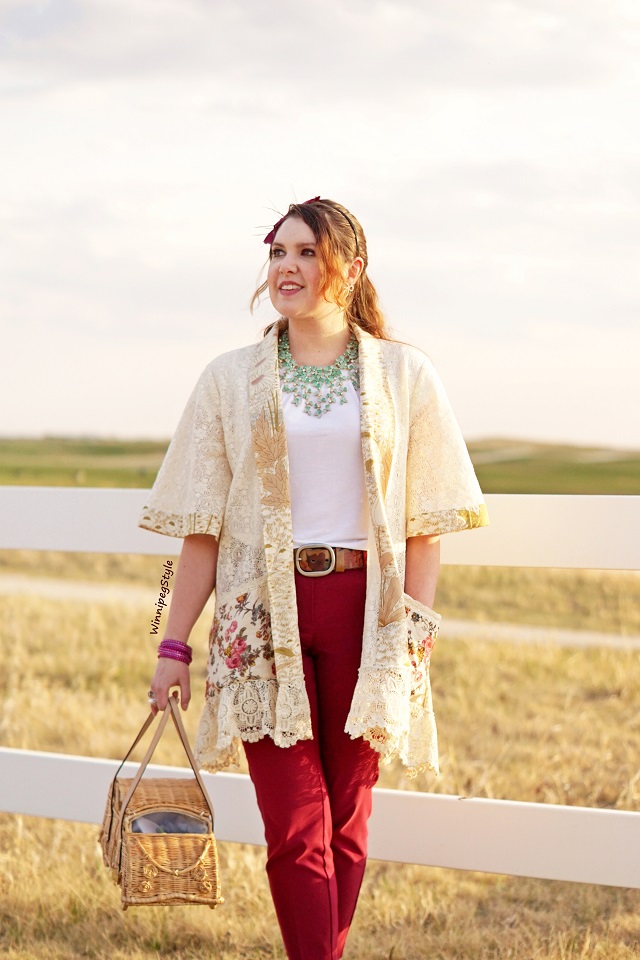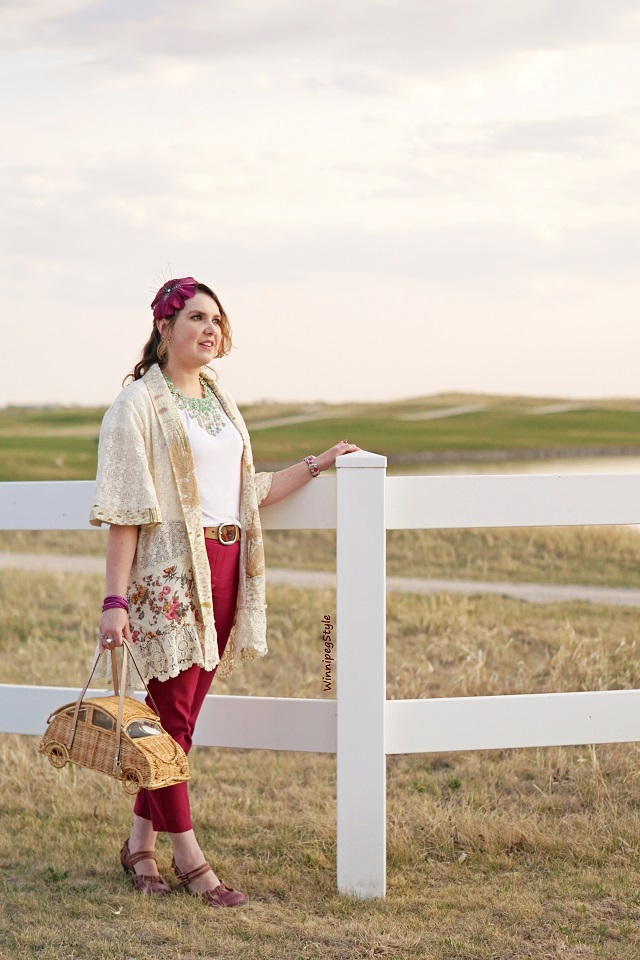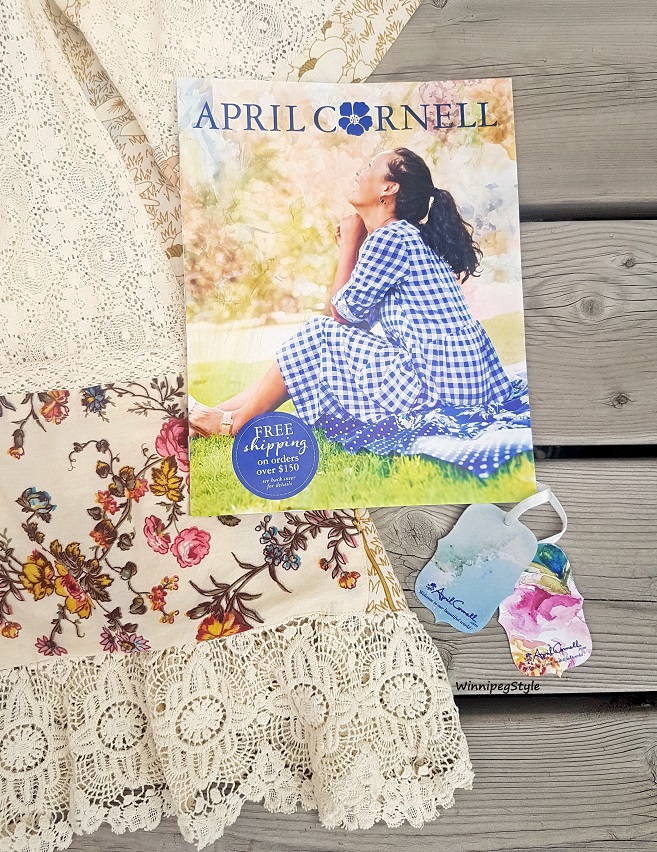 Outfit Details
Lace / patch pocket cardigan coverup – April Cornell ( Canada – click here, USA – click here)
T-shirt – Reitmans
Pants – Reitmans
Belt – Danier
Necklace – BCBG Maxazria
Headband – Icing
Earrings – Icing
Watch – Bestey Johnson @ The Shopping Channel
Ring – Betsey Johnson @ The Bay
Wrap bracelete – Swarovski
Wicker car bag – Kate Spade @ Winners
Shoes – John Fluevog