One of my favorite things about blogging is sharing some of my favorite brands, some which I have been wearing for years. One of those brands is C'est Moi. C'est Moi (meaning 'It's Me' in French) is a Canadian company established in 1989 based in Toronto, Ontario. (Don't worry you can get their products in the USA as well!) They offer classic and trendy pieces in all sizes (regular and plus)! You can find C'est Moi online (Canada – click here, USA – click here) but I personally discovered them years ago in a local trendy boutique! The first piece I bought made by C'est Moi was a classic black long sleeve fitted top. I couldn't believe how luxurious it felt as it was made from bamboo! From there I couldn't stop buying all the C'est Moi bamboo products!
Not until more recently I discovered they make not only the classic fitted bamboo pieces but they also make quite trendy pieces! Pieces I discovered the offered were oversized knits, cardigans, pretty tops and statement tops with unique details, athleisure wear including: leggings, jogger pants, sports bralettes and fun loose fitting bamboo styles!
In my blog post I am styling 4 of C'est Moi's latest pieces for spring and summer and I am so impressed!
Bamboo
Of course I couldn't do a blog post without wearing a few pieces from the bamboo line! Especially since the bamboo line is what made me fall in love with C'est Moi in the first place! These bamboo pieces are absolutely stunning! One of my favorite things their bamboo clothing is how the fabric keeps you cool in the summer and warm in the winter! Definitely a bonus as it's been so hot here lately and these pieces are fantastic for keeping me cool! Bamboo is the most eco-friendly fabric on the planet and it's a natural UV protectant! Can't get much better than that! Both of these pieces I am styling are more than 95% bamboo and the rest is spandex just to give the fabric some stretch.
Bamboo t shirt dress – The t shirt dress I am wearing is such a cute piece! I absolutely adore the soft lilac color but it also comes in a variety of colors too! I chose to belt the dress as I love to accessorize but it can be worn loose and looks just as perfect! This dress has just the cutest front pocket detail so you can carry a few small things if you would like. I must say this dress is so soft and comfy that it feels like wearing pajamas. I felt amazing in it! I can just throw this dress on and I am ready to go out looking so put together! The high low detail at the hem is quite neat too!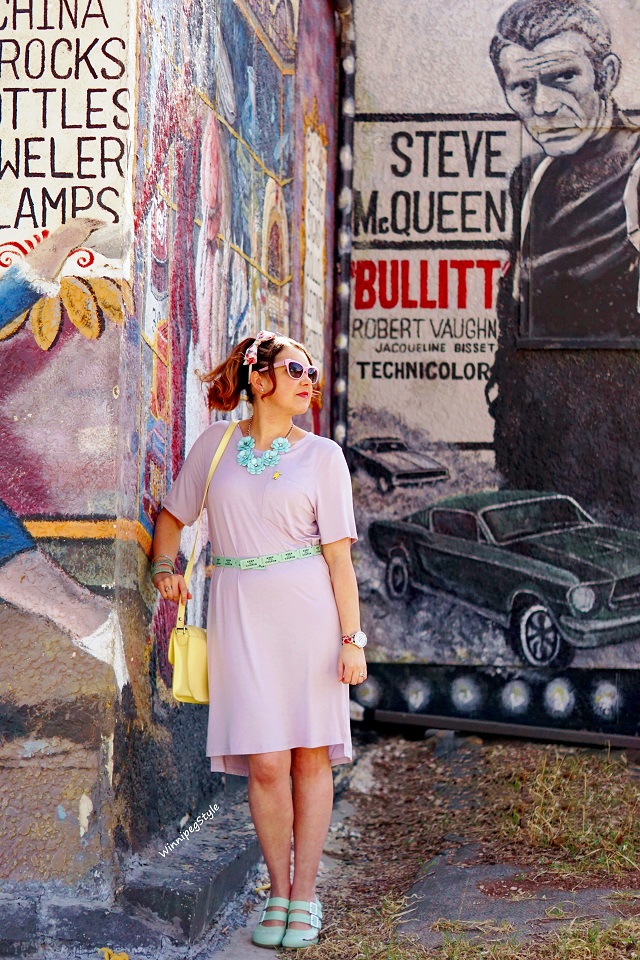 Bamboo scoop neck top – This bamboo top is a must have in my closet! It's the softest t shirt I have ever worn! It is semi fitted and looks amazing dressed up or dressed down! I chose to wear it here tucked into a bold sequin skirt for a dressy look but I have worn it with just a simple pair of capri pants and it looks just as awesome. I love that this top is so great to wear for both casual and even for a special event! Don't forget that it has amazing breathability so you will stay perfectly cool in the summer while looking fantastic!
Fun tops
T shirt with mesh back – The minute I saw this mesh back t shirt I knew I needed to have it! I absolutely love that the front of this top looks like a sweet simple cotton t shirt and then you see the mesh back detail and it takes it to a whole different level! I really love that you can cinch in the back to be as tight as you would like to give it some shape. I don't often show too much skin so I styled this top with a nude colored top underneath. This gives the illusion of skin without showing any and this also hides your bra as well. I think layering this top with a white tank or a fun color underneath would be neat too. I decided to wear this top with just simple capri pants when I went out just to make the top the star of the show! By adding some fun accessories I made the outfit perfect for me! I can't wait to wear this top with a fun skirt as well!
Knitwear
Side slit patterned cardigan – This year I been obsessed with long cardigans! I absolutely love to layer my outfits and in the spring and summer finding a lightweight cardigan is a must! This cardigan is my go to piece! I love the open pattern and the nude color makes it great to layer over anything. As you can see in my photos this cardigan can be worn a couple of different ways. Since it has high side slits you can either wear the cardigan long and loose over your outfit or you can tie it loosely in the front to give it a different look. I think this cardigan looks amazing over one of my favorite C'est Moi bamboo tops that I am wearing! I can't wait to wear this cardigan over all my summer dresses as well!
I hope you love C'est Moi products as much as I do!
Check them out online (Canada – click here, USA – click here) or at your local Boutique!
Oufit Details
Outfit #1
Bamboo t shirt dress – C'est Moi
Necklace – Aldo Accessories
Ticket belt – Kate Spade New York @ Macys
Bunny pin – Arzie
Crystal wrap bracelet – Swarovski
Watch – Betsey Johnson
Headband – Icing
Sunglasses – Kate Spade New York @ Winners
Bag – Heys
Shoes – John Fluevog
Outfit #2
Bamboo scoop neck top – C'est Moi
Sequin skirt – Maeve @ Anthropologie
Belt – Danier
Headband – Icing
Earrings – Swarovski
Necklace – The Shopping Channel
Clutch bag – Danier
Bracelet – Aldo Accessories
Watch – Kate Spade New York @ The Bay
Shoes – John Fluevog
Outfit #3
Mesh back t shirt – C'est Moi
Capri pant – Reitmans
Necklace – Winners
Headband – Claire's
Bracelet – Lia Sophia
Bag – Etsy
Shoes – John Fluevog
Outfit #4
Knit cardigan – C'est Moi
Bamboo top – C'est Moi
Jeans – Plicro @ Anthropologie
Belt – BCBG Max Azria
Headband – Icing
Sunglasses – Icing
Earrings – The Shopping Channel
Watch – Kate Spade New York @ The Bay
Crystal bracelet – Swarovski
Ring – Swarovski
Shoes – Rockport