If you are like me you are very excited for the arrival of spring. It may be a bit chilly still on some days but the warm sun and the longer days are much appreciated! The arrival of spring also means the arrival of gorgeous new spring fashions!! I am going to be showing you 3 stunning pieces from April Cornell's spring line that are absolutely amazing!
*** PROMO CODE OFFER!!! ***
Get 20% your order of Regular Priced items at April Cornell with promo code: WINNIPEGSPRING19
Offer is good until June 30, 2019 (Offer is good for ONE use only per email address)
Spring fashion is always about layering as you must be able to take off and put on layers depending on the temperature at that moment. The temperature can change so fast and you don't want to get caught being too hot or too cold.
Getting the perfect spring coat is essential for me. This one from April Cornell (See it here: click here) is absolutely perfect! I love the bright color of this jacket and the way the gorgeous embroidery pops on it. This jacket is nice and light but still warm being made out of 100% cotton! I adore the cut of this jacket as it is so flattering to so many body shapes. If you are loving the coat but the color is too bright for you it also comes in a beautiful blue color (see it here: click here).
Now onto the perfect layering pieces. Honestly these 2 white layering pieces (t-shirt and leggings) are a must have! I will be showing you in my next blog the same 2 pieces layered again with another outfit and they look equally amazing!
Lets start with the most adorable t-shirt! This one is made from 100% cotton so it is really breathable keeping you cool in the warm weather and it is so soft. (See it here: click here) The crochet details at the ends of the sleeves is truly my favorite part! It adds just that something special to a simple t-shirt making it a piece you can wear with so many things. This top also comes in a big selection of colors (See all colors here: click here)
The cropped leggings I am wearing are so comfortable and made from 96% cotton and 4% spandex; beautiful material with the perfect stretch. (see them here: click here) The length of these leggings are fantastic to wear with shorter dresses and longer tops all spring and summer long. The sweet subtle embroidery at the thigh that goes down past the knee is such a nice touch. April Cornell always thinks of all the details to make each piece extra special. These leggings also come in black (see them here: click here) and I am pretty sure I am going to need those as well for this season!
To see all that April Cornell has to offer click here in Canada or Click here in the USA
April Cornell offers:
Ladies fashions in REGULAR & PLUS size
Baby, Girls and Mommy & Me fashions
Linens and kitchen products
Home: including bedding and cushions
Accessories: including shoes, bags, jewelry, hats and scarves
*** PROMO CODE OFFER!!! ***
Get 20% your order of Regular Priced items with promo code: WINNIPEGSPRING19
Offer is good until June 30, 2019 (Offer is good for ONE use only per email address)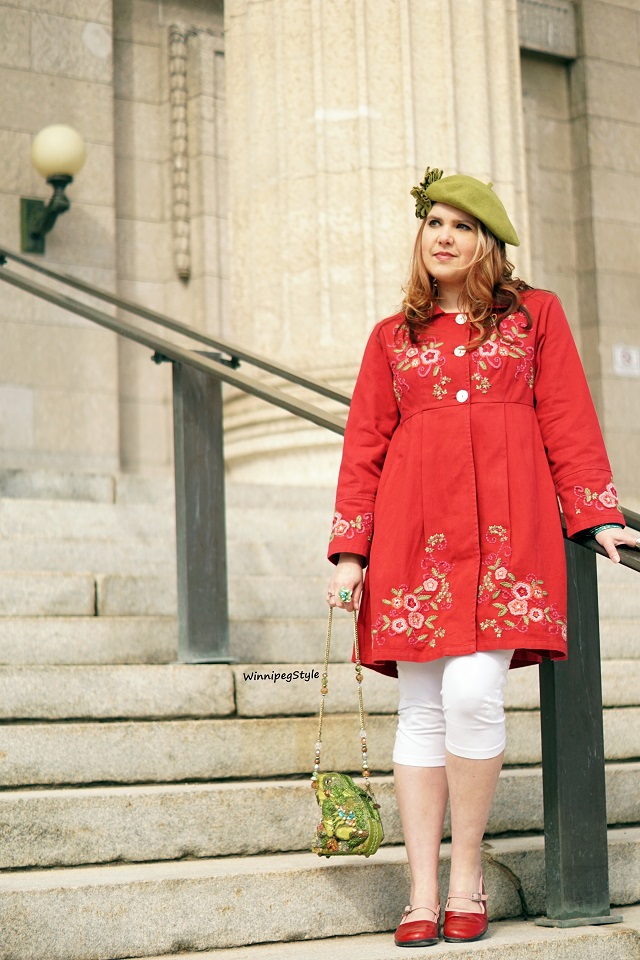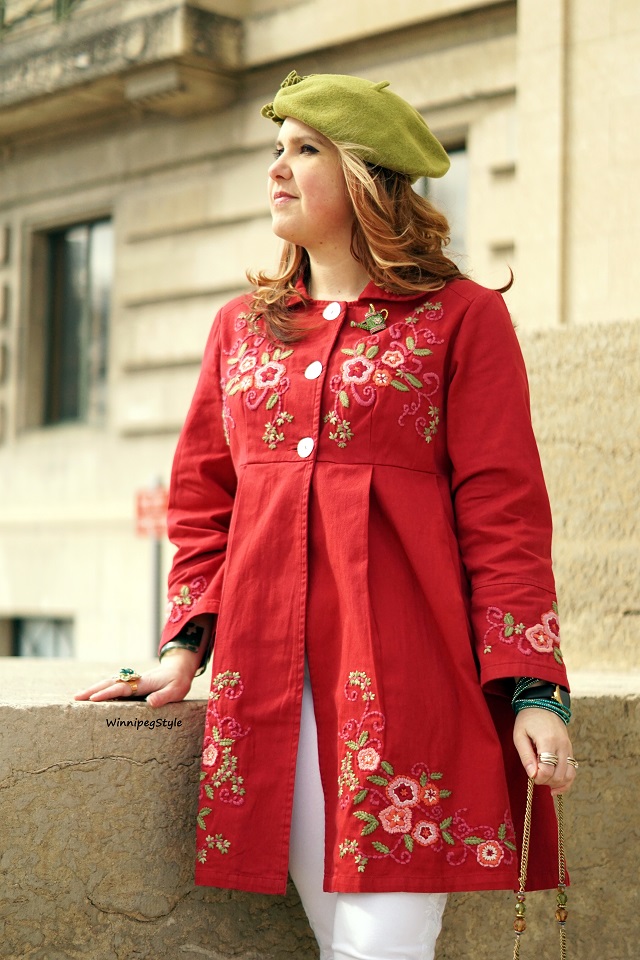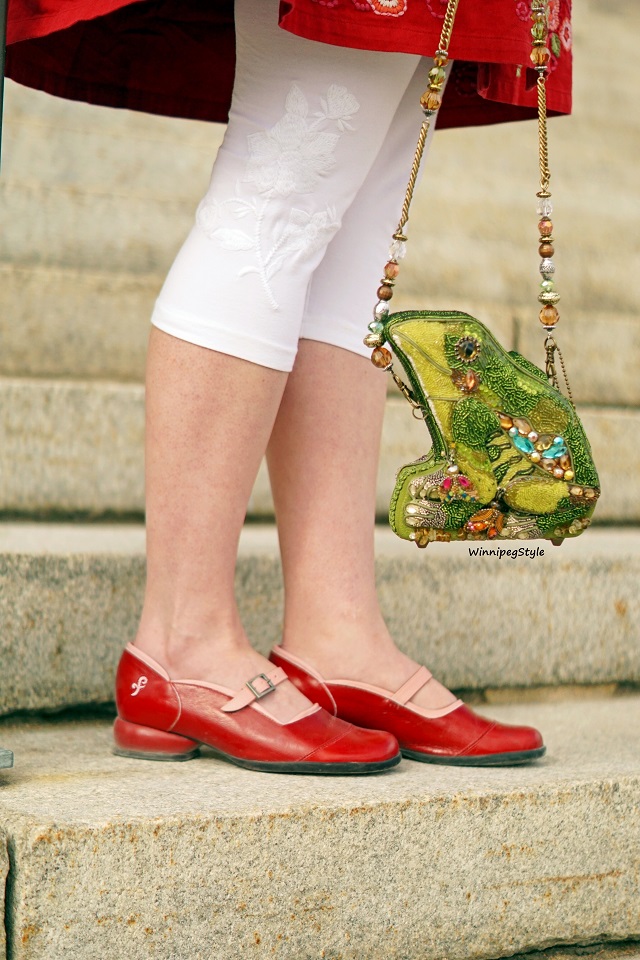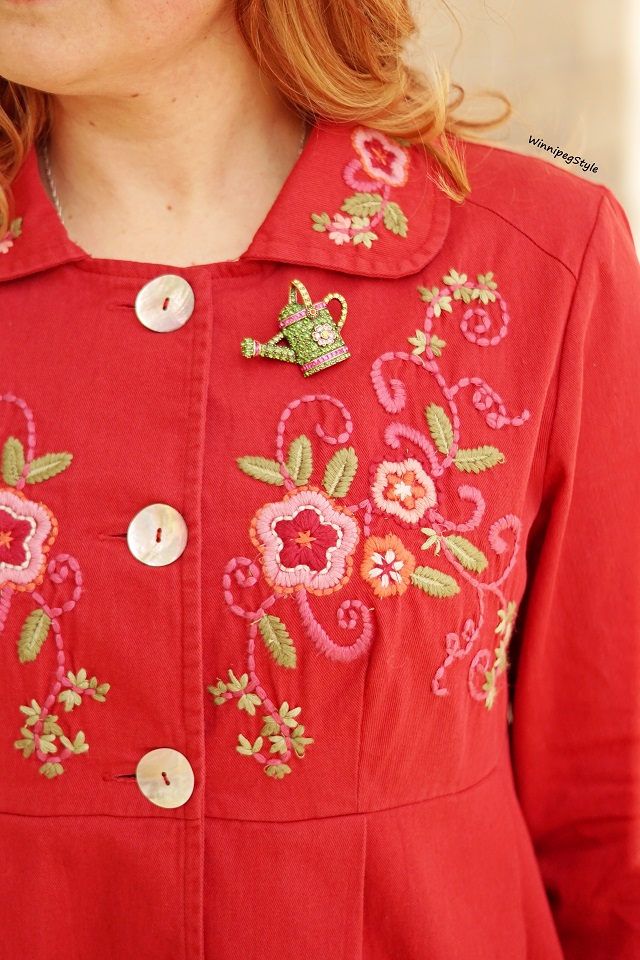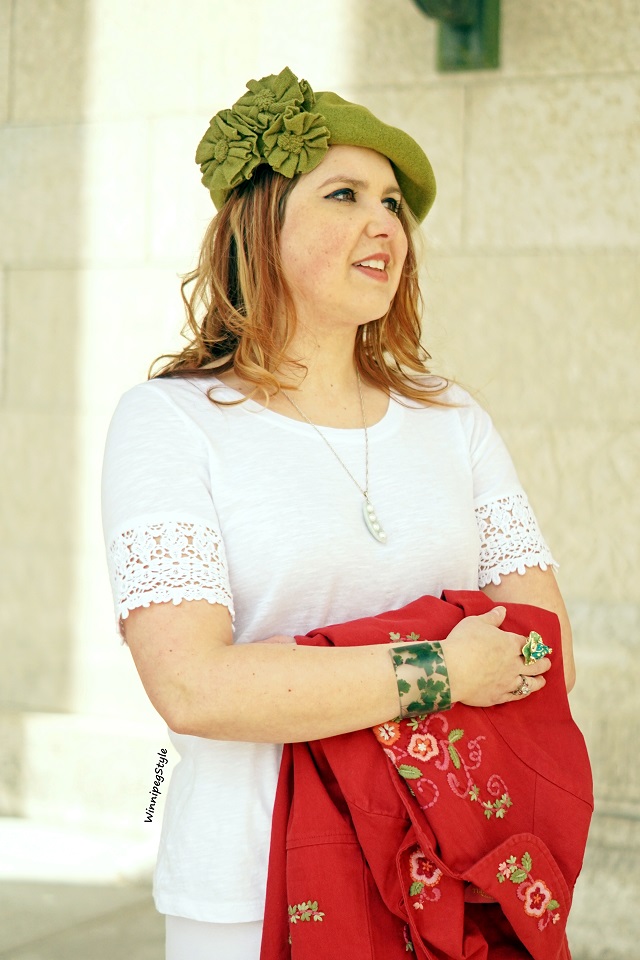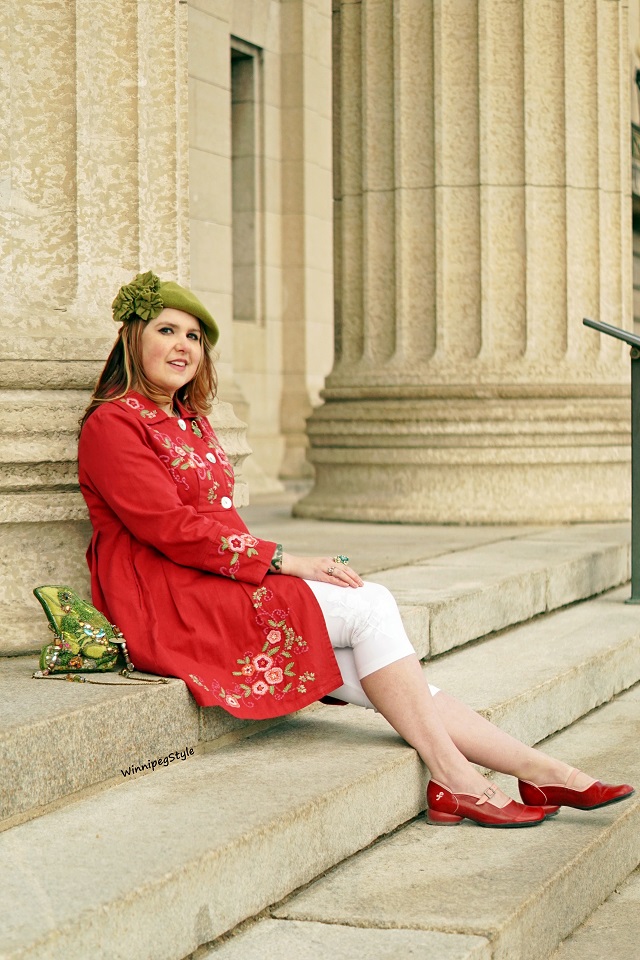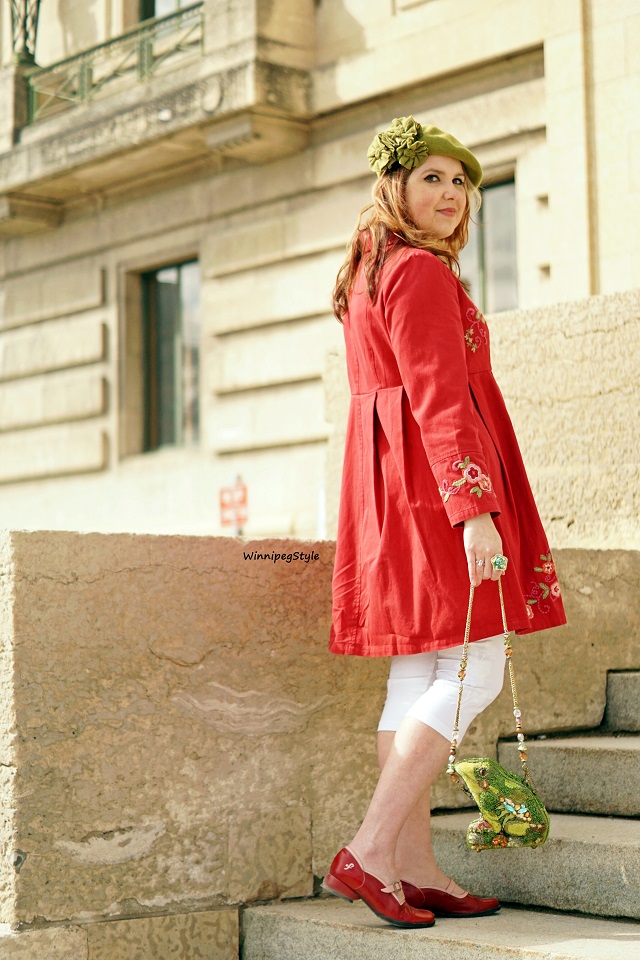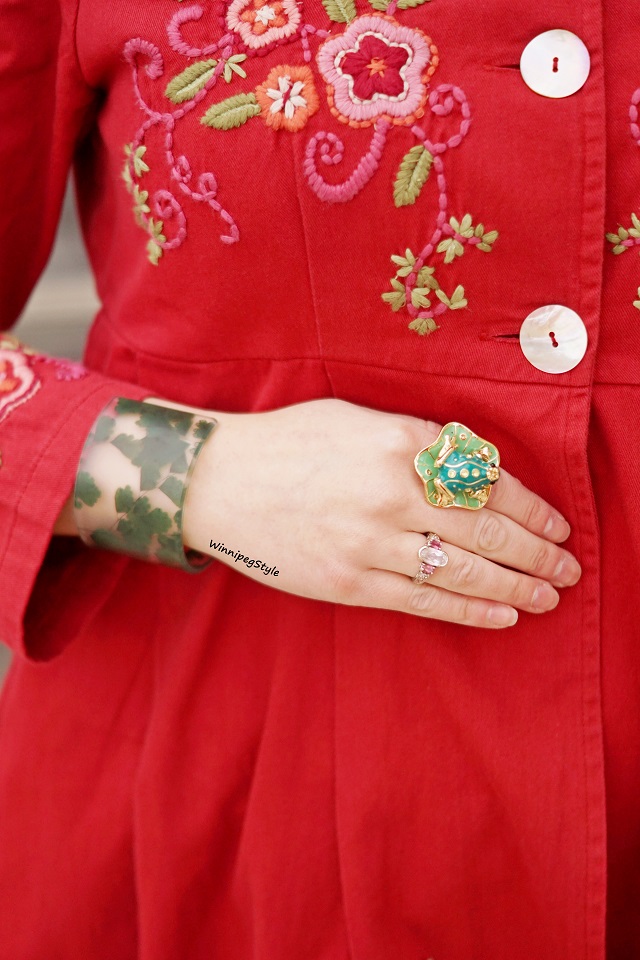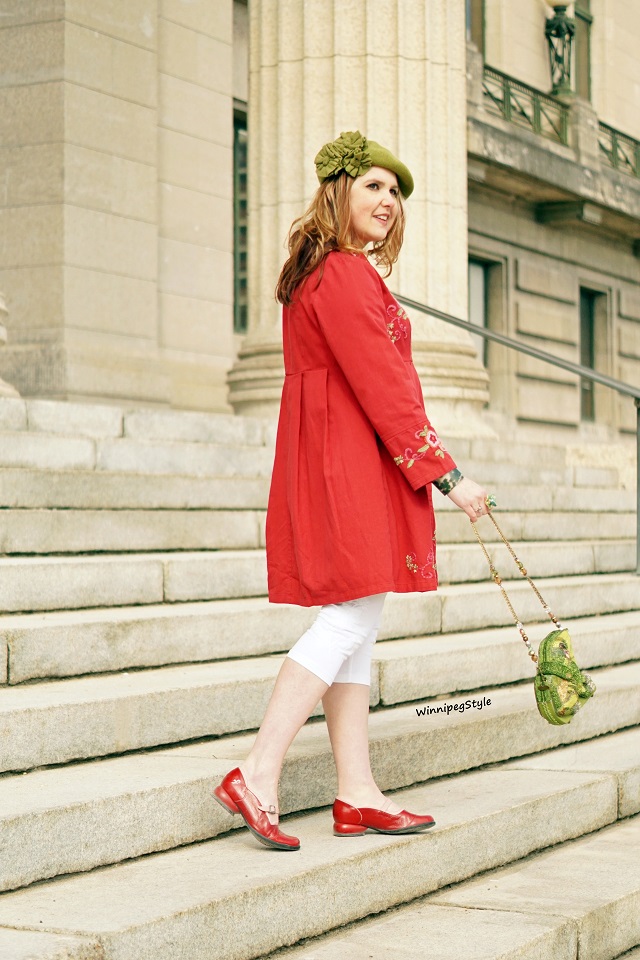 OUTFIT DETAILS
Cotton embroidered jacket: April Cornell (click here)
Embroidered leggings – April Cornell (click here)
Crochet sleeve t-shirt – April Cornell (click here)
*** PROMO CODE OFFER!!! ***
Get 20% your entire order of Regular Priced items at April Cornell with promo code: WINNIPEGSPRING19
Offer is good until June 30, 2019 (Offer is good for ONE use only per email address)
Hat – San Diego Hat co. @ Winners
Watering can brooch – Heidi Daus @ The Shopping Channel
Resin clover bangle bracelet – dconstruct
Frog ring – Icings
Jade peas in pod necklace – The Shopping Channel
Shoes – John Fluevog