One of my favorite things about shopping is finding a new store that offers the most unique pieces! What's even better is when this store is local!
I visited a gorgeous clothing and accessory store located in my city of Winnipeg called Fashion Paradise! It definitely is fashion paradise with the stunning and unique pieces that I found there! I am wearing three of the pieces that I took home with me from the store, two adorable embellished t-shirts and a beautiful satin skirt! This satin skirt came in 3 more colors as well, pink, nude and baby blue!
There are so many lovely pieces at Fashion Paradise and the stock is constantly changing as things sell fast!
Fashion Paradise is located at: 444-A St. Anne's Road, Winnipeg, Manitoba, Canada
** You don't have to be local to get these amazing pieces for yourself! **
Flat rate shipping is offered on all of the pieces available to anywhere in North America!
I have taken a few pictures of what was available when I was in the store (there was so much more) and I posted them below but you can check out the current stock on the Fashion Paradise Facebook page (click here to check it out) and the Fashion Paradise Instagram page (click here to check it out). Anything you see in the photos you can purchase by sending a message though the Fashion Paradise Facebook or Instagram page.
Fashion Paradise offers fabulous women's fashions and accessories and there are always a few pieces on sale too! My skirt and tassel embellished t-shirt were 50% off! If you are like me and love a cute t-shirt there were so many to choose from! I had a hard time just picking up 2 of them. If you are a Disney fan there was even a Princess and the Frog one!
Make sure to check out Fashion Paradise you'll love it!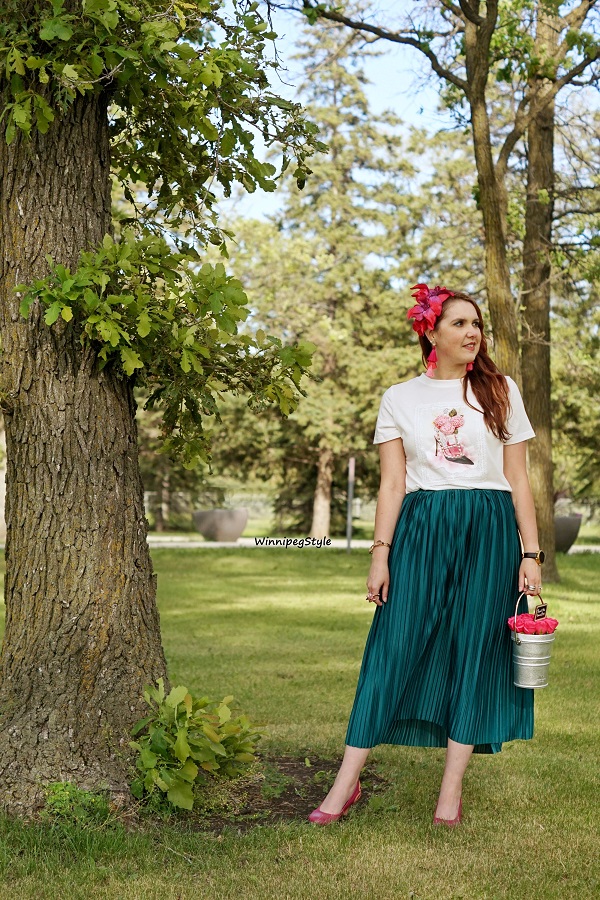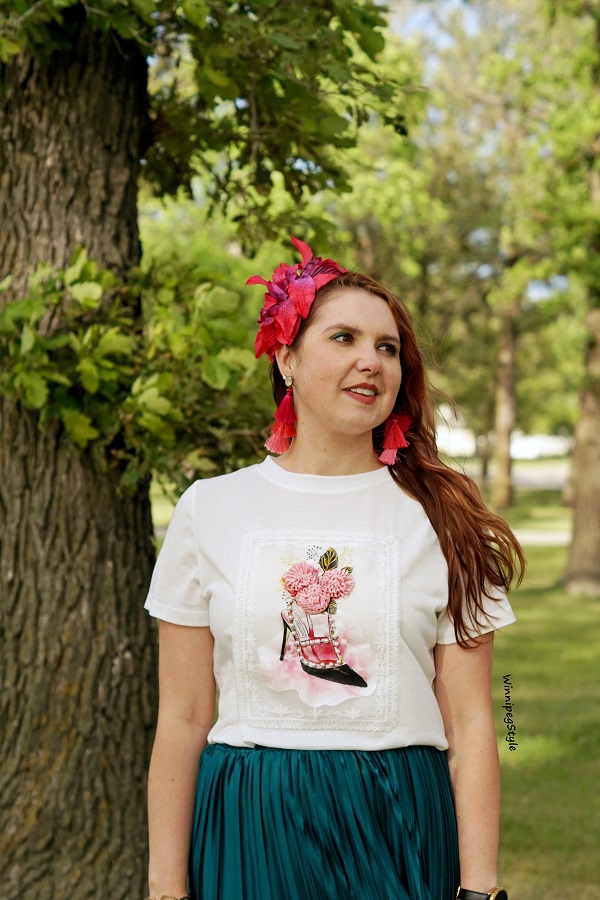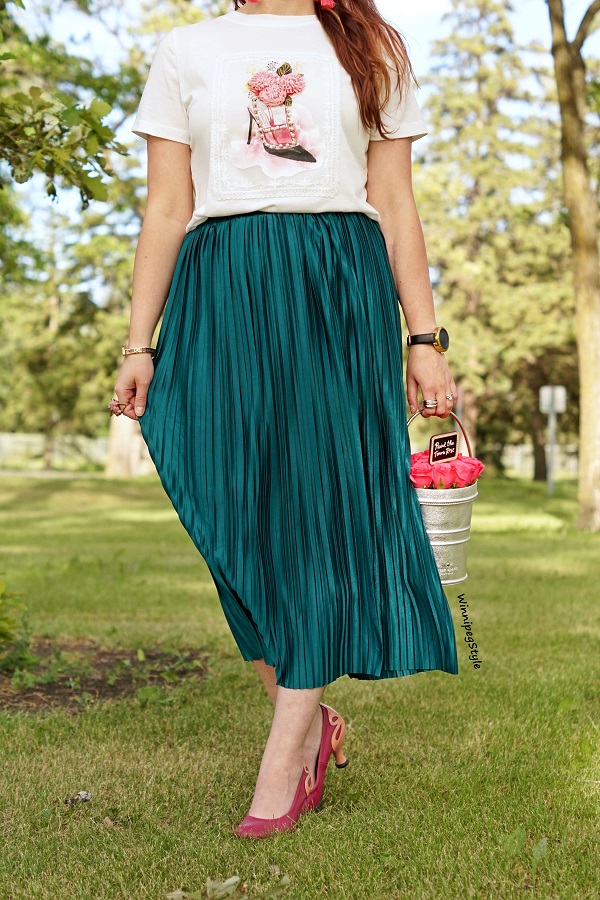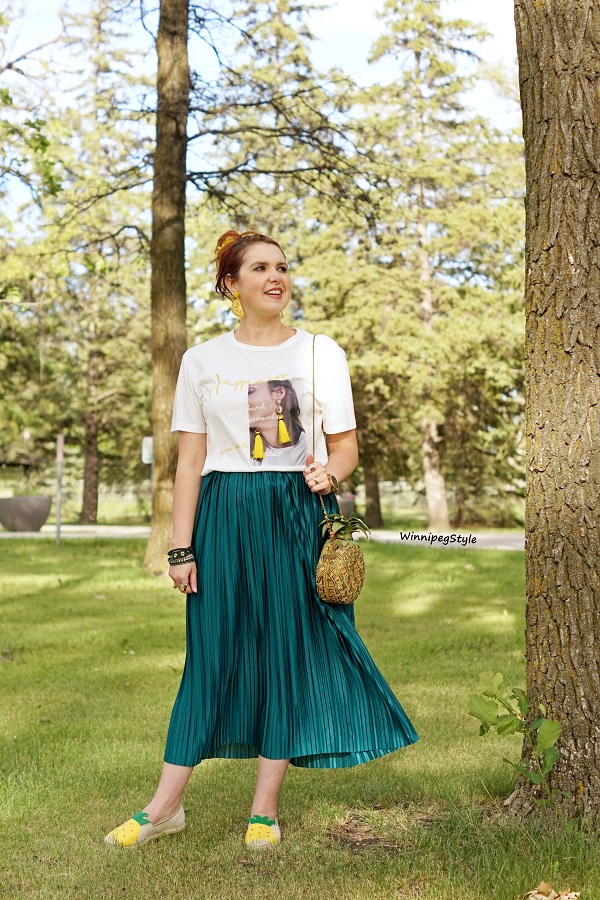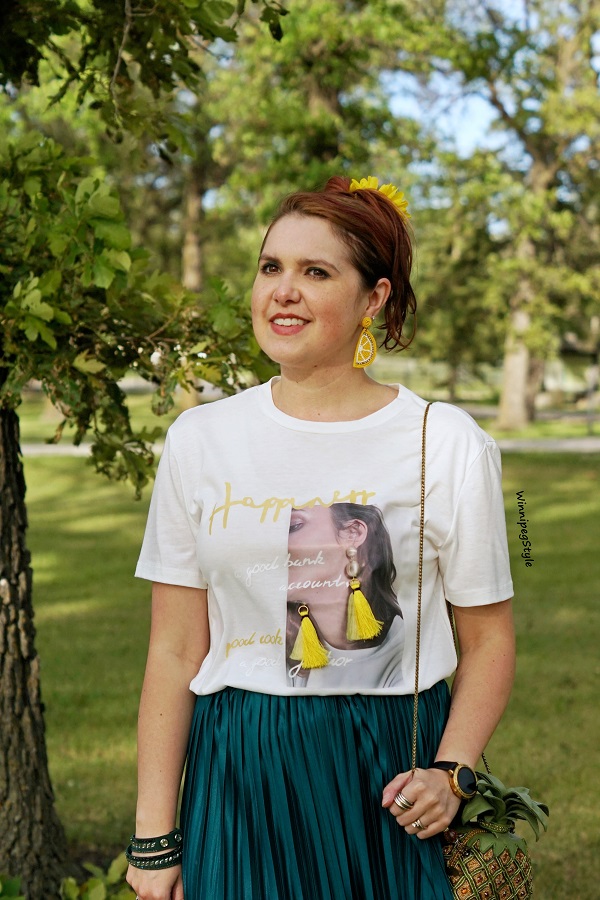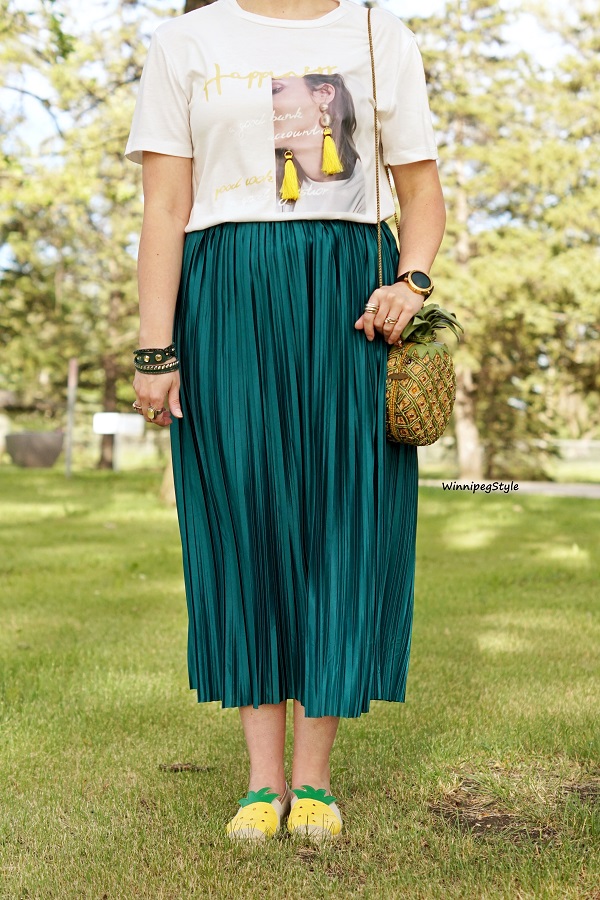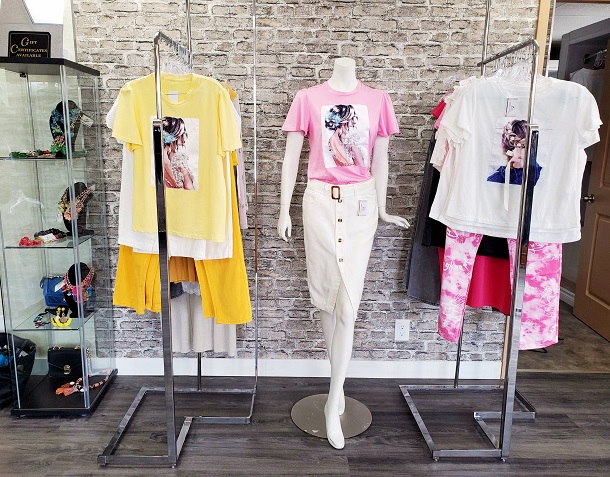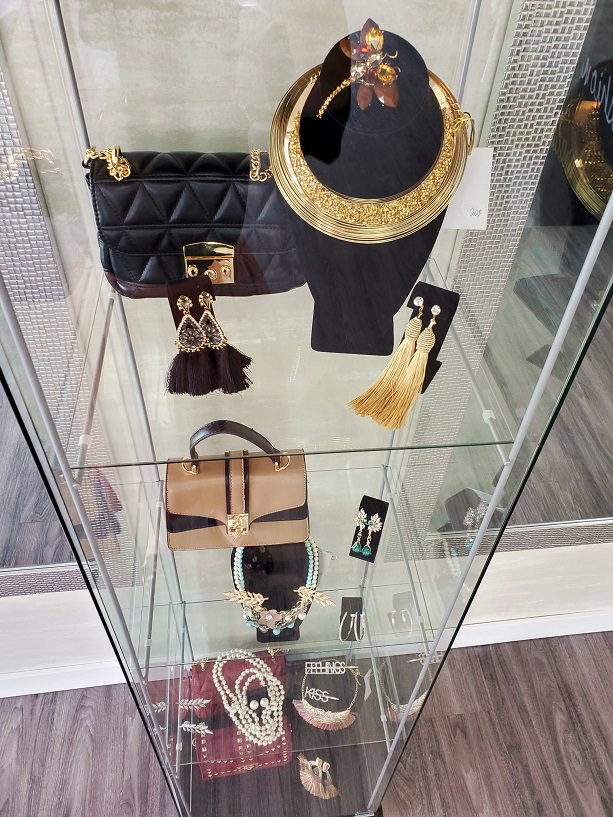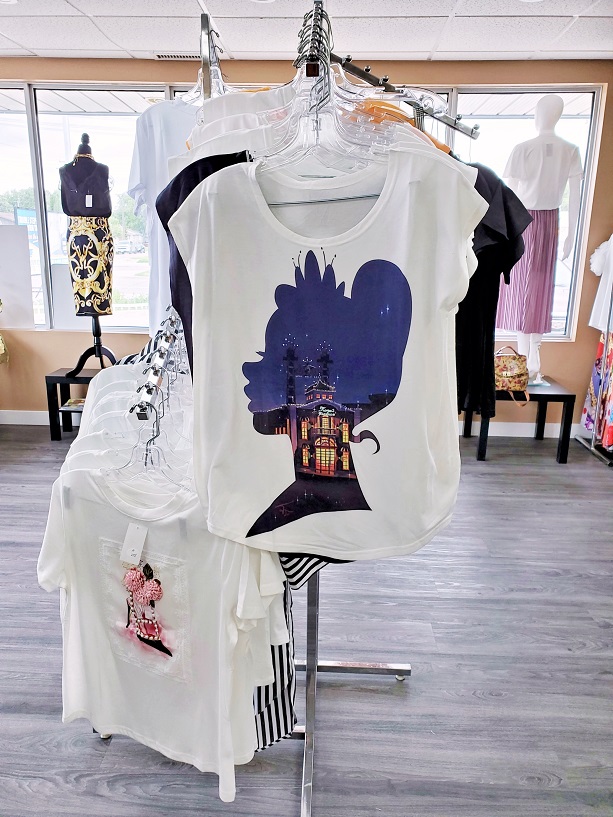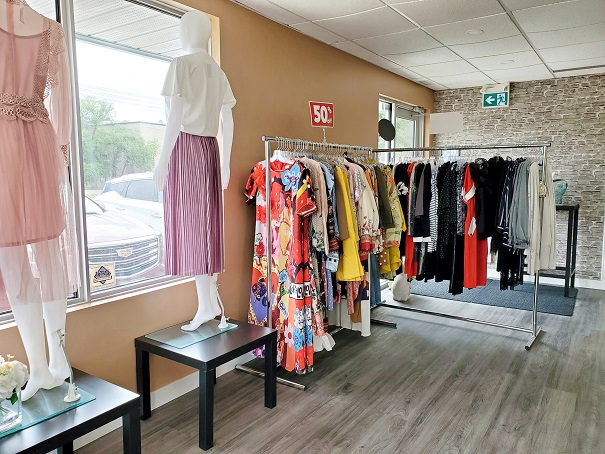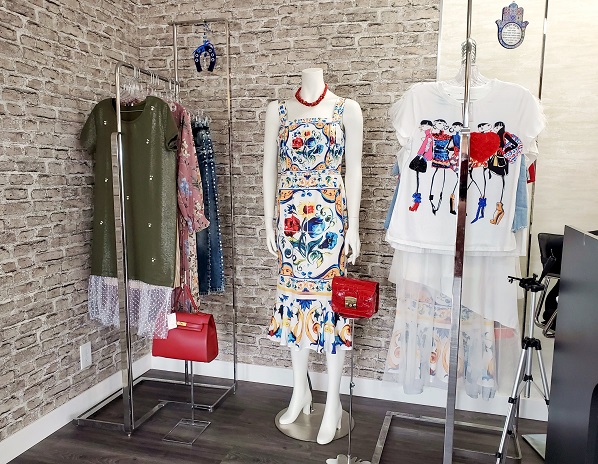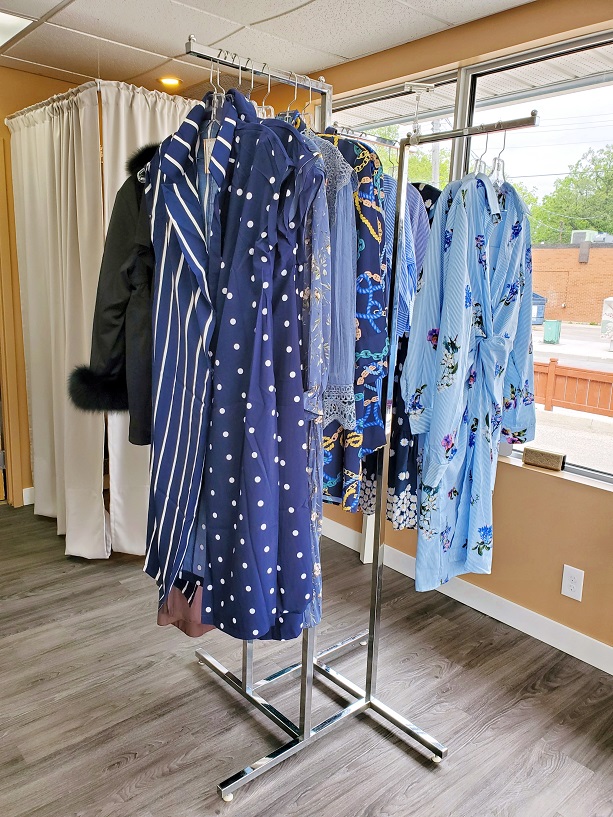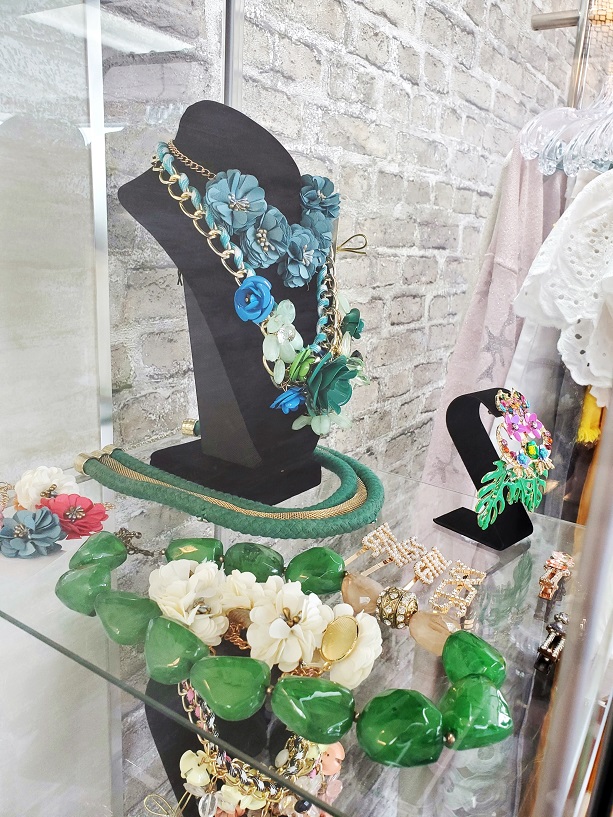 OUTFIT DETAILS
Outfit #1
Shoe print embellished t-shirt – Fashion Paradise
Satin crinkle skirt – Fashion Paradise
Rose pail bag – Kate Spade New York
Headband – Icing
Tassel earrings – Anthropologie
Shoes – John Fluevog
Outfit #2
Printed tassel embellished t-shirt – Fashion Paradise
Satin crinkle skirt – Fashion Paradise
Pineapple bag – Mary Frances
Lemon earrings – Winners
Pineapple shoes – Avon