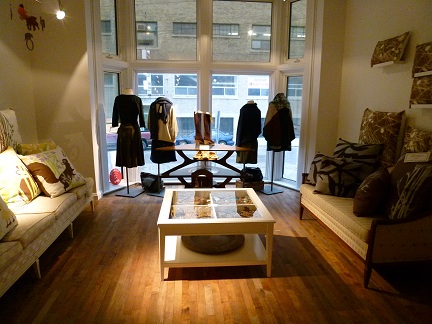 I have to say I never really knew much about eco-friendly or sustainable fashion until recently when I purchased some clothing that was made from reclaimed leather. This really intrigued me so I wanted to look into this for myself.
What does eco-friendly and sustainable fashion mean?
Eco-friendly is a term used in fashion that claims to inflict minimal or no harm on the environment.
Sustainable fashion is a goal to create a system which can be supported indefinitely in terms of environmentalism and social responsibility on to the environmental and social impact it may have throughout its total life span, including its 'carbon footprint'
While looking for eco-friendly products I found 'Five Two Boutique' here in Winnipeg and contacted the store to do a blog about eco-friendly and sustainable fashion. I was kindly invited to visit the store and see what they had to offer.
'Five Two is a sustainable, eco-friendly retail store for women, men and children located in the Exchange District within the heart of Winnipeg. Offering conscientious fashions from around the world in limitless styles for day and night, from casual to sultry. Not only is clothing offered, there is shoes, bags, accessories, as well as unique housewares. Starting a trend won't be difficult when you shop with Five Two.'
They certainly live by this as everything, I mean everything is eco friendly in the store. The tables, display pieces and furniture are all made from local reclaimed wood and fabric. The wood floor is reclaimed from an old church in Osborne village, the lights are low voltage and the paint on the walls is eco-friendly.
I know, before I came to this store I thought of eco-friendly fashion as something for the hippy-like or just plain ugly. That is definitely not the case in this store the products were gorgeous ranging from casual to couture! The fabrics of the clothing are so luxurious! Here are just a few of the types of fabrics used in the clothing at Five Two Boutique:
Wild silks – are usually harvested after the moths have left the cocoons. (In the process of regular silk the silk farmer kills most of the caterpillars leaving a few to breed the next generation.)
Hemp – for a crop, hemp is very environmentally friendly as it requires few pesticides, when not grown industrially and no herbicides. The crop also grows extremely fast
Organic Cotton – this fabric uses no pesticides, herbicides or insecticides during the growing cycle, which regular cotton does (Regular cotton uses 16% of the world's pesticides!) Manufactures of organic cotton also follow up by using natural dyes.
Reclaimed or recycled fabrics – scraps from vintage fabrics or clothing
Not just clothes can be eco-friendly at Five Two Boutique there was also amazing vegan shoes, ecologically prepared natural grain leather footwear, jewellery made from reclaimed metal, gloves, scarves, ear warmers made from recycled wool, handmade lotions and soaps, and even a few purses made from recycled tires, seatbelts and interior fabrics from a vintage car.
Make a difference in the World of fashion and check out what eco-friendly and sustainable products you can find! Let me know what you have found! I'd love to hear back from you!
'Five Two Boutique' will be joining 'Boutique Week' here in Winnipeg from December 2-11, 2011! They will be running some promotions so check them out!